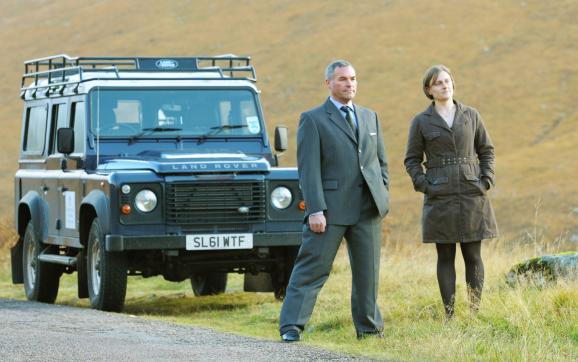 Staff from the National Trust for Scotland's Glencoe property got a makeover today to recreate a scene from the latest Bond movie, Skyfall.
Glen Etive is one of the many locations set to shine on the big screen when Daniel Craig's latest outing is released worldwide.
The conservation charity welcomed the Hollywood production to their site in the Scottish highlands earlier this year. Glimpses of what was captured in Glencoe have already featured in the trailers for the movie.
In the pictures released today, Trust models are recreating some of the scenes from the movie – Scott McCombie, Glencoe Property Manager takes on the role of Bond and Ranger Rachel McKerral is a much too young M. A Trust Landrover plays the part of the iconic Aston Martin DB6.
Scott said:
"Who can fail to be blown away by these stunning backdrops? We hope that after seeing this latest Bond movie more people come to see the beauty of this area for themselves."
But be warned, the ranger staff who help care for Glen Coe, Glen Etive and Dalness, don't always look so glamorous and are normally found in fleeces and hiking boots.
Skyfall opens in cinemas in the US on November 9th.
The National Trust for Scotland is one of Scotland's leading conservation charities, which relies on the financial support of its members to fund its important work of caring for the natural and cultural heritage of Scotland for everyone to enjoy. You can join the National Trust for Scotland for as little as £5.50 per month for a family. To become a member, visit http://www.nts.org.uk/Join/Benefits/.
 
Scotland in Trust magazine, the National Trust for Scotland's membership magazine features Bond and M on the front cover. Scott McCombie and Rachel McKerral take the place of Daniel Craig and Dame Judi Dench.
All information contained herein provided by the National Trust for Scotland