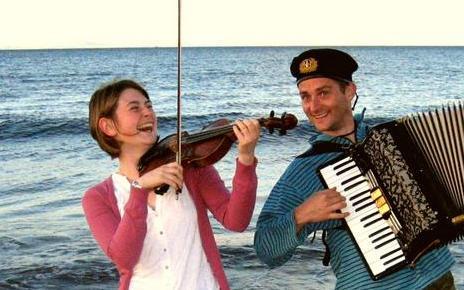 Fiddles: they are at the heart of Scotland's music. One weekend every November, Edinburgh draws the best and brightest, fiddle masters from all parts of Scotland and from across the world, those who love to learn, those who love to teach, and those who love to listen to the Scots Fiddle Festival. This year it takes place on the weekend surrounding 16 November, in King's and Queen's Halls, Edinburgh.
Going into its seventeenth year, the festival upholds its reputation for drawing top notch talent.
USA based quartet Celtic Fiddle Festival brings the talents of Kevin Burke, a world renowned Irish fiddler who has been part of The Bothy Band and Patrick Street. Alongside Burke are Breton fiddle master Christian Lemaître and André Brunet, a rising French Canadian fiddler playing the tunes of Quebec. Guitarist Nicholas Quemener from Brittany rounds out the quartet for a combination of musical traditions.
From Scotland's far northern isles, Shetland, comes fiddler Kevin Henderson, who will be joined by Swedish guitarist Mattias Perez as they celebrate and share tunes from their album Fin Da Laand Ageen.
Irish American fiddler Liz Carroll has been honored with top music awards, including the National Heritage Fellowship in the US and the Cumadóir TG4, Ireland's most significant traditional music prize. She tours on her own, as part of the String Sisters, and with guitarist John Doyle. Many of the tunes Carroll has composed have become such standard session tunes across the world that players think they are from the tradition. Carroll will headline Saturday's festivities.
Also on the bill that day is the quartet Rant, featuring four of Scotland's finest fiddlers, players, and composers who've recently joined up as an ensemble.  Bethany Reid, Jenna Reid, Sarah-Jane Summers, and Lauren MacColl use just their fiddles to weave a tapestry of melodies, textures, layers, and sounds drawing on their varied backgrounds.
Frank Rochford, a Campbeltown youngster who has been playing the fiddle from the age of five and who has studied with several members of Rant, has over the years won at the Royal National Mod and the Glenfiddich 2011 fiddle championship, among other competitions. He will be on hand to offer West Coast and Highland slow airs and pipe marches.
These are just the evening concerts. Daytime recitals will include performances from the likes of Mairearad Green and Anna Massie:, Daniel Thorpe, Emma Sweeney and Matheu Watson, and others. There will be workshops, too, and sessions, as well as ceilidhs and a late night festival club, and with it all, celebration of all things fiddle.
For more information, please see: www.scotsfiddlefestival.com          
Photo courtesy and copyright Sarah-Jane Summers