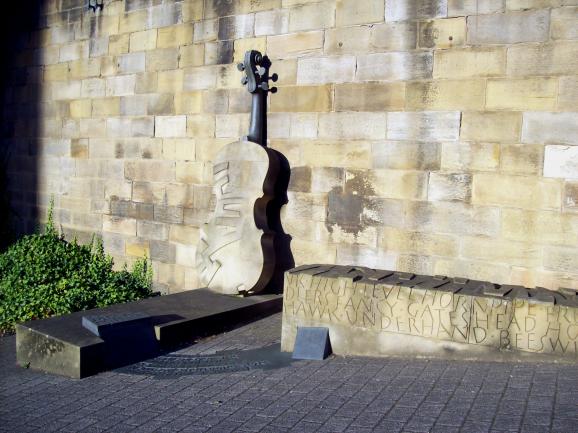 Fiddles. They are a vibrant presence, part of the music of Scotland -- you could even say at the heart of the music of Scotland. Played in varying styles and ways from the Borders up to the Northern Isles, from the Western Isles over to Aberdeen, from Perthshire to Glasgow to Arran, they ring across the country. Heritage and present day voices of the fiddle, from Scotland and beyond, are especially celebrated on a weekend each November in Edinburgh at the Scots Fiddle Festival.
This year, events take place from Friday 21 November through Sunday 23 November. This time, there will be an evening concert on Sunday added to the long standing schedule of concerts happening on Friday and Saturday evenings, along with a full slate of daytime and evening events, including talks, workshops, ceilidhs, and events designed for kids and teenagers as well. Featured evening concerts take place in The Queen's Hall. All other events are set for various rooms in Summerhall. Here is a bit of what will be happening:
On Friday, the distinctive music of Orkney in the Northern Isles will take the spotlight as Orcadian players, including Douglas Montgomery, Catriona Price, Brian Cromarty and others, take the stage. Saturday night's featured event will include the top notch duo of John McCusker on fiddle and Michael McGoldrick on flutes and whistles. McCusker and McGoldrick have both created outstanding solo albums as well as contributing to the music of artists including Capercaillie, Eddi Reader, Heidi Talbot, Cara Dillon, Cathie Ryan, Phil Cunningham and Aly Bain, The Battlefield Band, and many others. Their work as a duo is not to be missed. Along with McCusker and McGoldrick on the bill Saturday night is ever creative and inventive fiddle player, Casey Driessen from the United States, who has been known to push the boundaries of traditions of all sorts, incorporating bluegrass and jazz along with a percussive fiddle style, loops and effects -- and sometimes, bright red shoes. The Young Edinburgh musicians of the Scots Fiddle Festival Outreach Project will also be part of the music on this night.
On Sunday, Ireland and Scotland will both be part of the mix as Ross Couper and Tom Oakes with special guests share their fiddle, guitar, and flute music, which includes influences from Shetland and other parts of Scotland, as well as hints of an Irish touch at times. That nod to Ireland comes full circle with the other act on Sunday evening, Frankie Gavin. Long the anchor of Ireland's iconic traditional band De Dannan, Gavin has played with artists ranging from The Rolling Stones to Stephane Grapelli.
Many of these headline musicians will share their skills and ideas in workshops during the day, and additional tutors will add to the events as they teach bowing techniques, learning how to play by ear, and styles of Shetland, Orkney, and Arran, tips on taking solos and playing with other musicians, as well as workshops in tunes and style and techniques geared to younger and learning players. Talks are on the schedule too, including health ideas for fiddlers and a talk about the Understanding Scotland Musically project. Extending the outreach of the festival, there will also be free open to the public workshops to come and try the fiddle and to come and try Gaelic,
There will be ceilidhs and sessions a plenty, too, a late night Festival Club, and no doubt much good fellowship and music to be shared. Information on tickets and exact schedules is available at the Scots Fiddle Festival web site http://www.scotsfiddlefestival.com/fiddle2014/
Kerry Dexter is an editor at Journey to Scotland, where you may often find her writing about places, events, and people connected to music, history, and the arts. You may reach Kerry at music at wanderingeducators dot com
Find more of Kerry's work in Wandering Educators, National Geographic Traveler, Ireland and the Americas, Perceptive Travel, and other places online and in print, as well as at her site Music Road.
Note: Feature photo courtesy flickr cc: summonedbyfells
This unusual memorial to James Hill, a noted nineteenth century musician, is the work of the N.Yorkshire based artist Peter Coates and sits in Bottle Bank opposite the Hilton Hotel and close to the Sage Concert Hall in Gateshead. This is the area where James Hill lived and composed tunes that are classics to this day. Born in Scotland in 1811, he lived, worked, and died here. The names of some of his most famous compositions are inscribed on the balustrade on the right of the larger than life fiddle, while the inscription on the base plate records him as "James Hill of Bottle Bank" and tells us that he was "most active between 1842 & 1852. James Hill's music is still played today; a book by the author Graham Mitchell Dixon records his achievements.