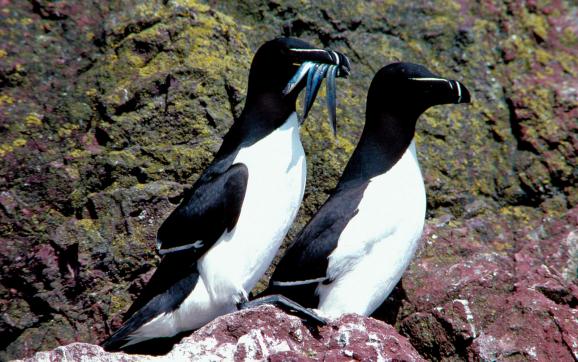 Seabirds soar at Trust colonies. Some species of seabirds have had their most successful breeding seasons for a decade, reports the National Trust for Scotland.
Dr Richard Luxmoore, the conservation charity's Senior Nature Conservation Adviser said:
"Many seabirds have experienced a good breeding season at colonies in the west of Scotland.  After several years of bad news it is encouraging to be able to report that several species have had their best season in 10 years."
The National Trust for Scotland's studies on their property at Mingulay, showed that there were 1642 pairs of Kittiwakes trying to nest, up 46 per cent since last year. More importantly, their breeding success, at 88 chicks produced per 100 pairs, was much better than 2013. Other species, such as Razorbills, Common Guillemots and European Shags also recorded substantial improvements in both numbers and breeding success.
Kittiwakes and their young on the cliffs at St. Abb's Head, Borders.
Studies carried out by the Highland Ringing Group on Canna, in the Small Isles, showed that Kittiwakes were up 14% since last year and also had excellent breeding success, similar to its near neighbour Mingulay across the Minch. Guillemots and Razorbills also experienced better breeding success and higher numbers than in recent years. More excitingly, researchers located five occupied nest burrows of Manx Shearwaters at three locations around the island. Shearwaters had been reduced to local extinction on Canna but a successful rat eradication project, completed in 2006, has allowed them to recolonise several of their former nest sites.
Razorbills on the cliffs at St Abb's Head Nature Reserve.
On St Kilda, a World Heritage Site 60km west of the Outer Hebrides managed by the Trust, annual monitoring has showed that puffins have had much greater breeding success than in recent years. A ground breaking programme to study the elusive and little known Leach's Storm-petrel has been able to take detailed measurements of three chicks that have been reared in artificial nest burrows this year.
A puffin pictured on the island of Staffa.
On the east coast, the Trust's St Abb's National Nature Reserve has seen good breeding success of Black-legged Kittiwakes and European Shags, the latter producing 195 chicks per 100 pairs (the highest productivity on record and double that of 2013).  This follows many years of declining numbers on this and other North Sea colonies.
Shag and chicks
Many species of seabirds have been declining rapidly on west coast properties recently. On St Kilda, Black-legged Kittiwakes have declined by 89 per cent at one study site since 2002 and were experiencing breeding success as low as 6 chicks per 100 pairs. On Mingulay they had declined by 60 per cent between 2003 and 2013, although this year's result has gone a long way to regaining some of this ground.  Puffins, too, have been suffering a long term decline in breeding success. On St Kilda, the breeding success has gone down from about 80 chicks per 100 pairs to around 40 since 1975.  The reasons for these declines are not always known but studies on the Isle of May have implicated rising sea temperatures in the breeding failure of Kittiwakes through their impact on sandeels, the main prey species for several seabirds.
Dr Luxmoore continued: "After many years of depressing news, it is wonderful to see so many species of seabirds having a good year in 2014. While this may only prove to be a blip in a long-term decline, it provides a great boost to colony sizes whose effects should be evident for several years to come."
Bob Swann, of the Highland Ringing Group, who have been running seabird studies on Canna for over 40 years, said: "It was great to see the colonies so full and so noisy this summer. Although we are unlikely to see a return to the peak numbers of the 1980s and 1990s, I'm hopeful that the declines may have stopped and for some species even reversed."
Scotland is internationally important for its seabirds, having some 45 per cent of the breeding population in the whole of the European Union. The National Trust for Scotland hosts almost a fifth of these at is properties of St Kilda, Mingulay, Fair Isle, Canna, St Abbs, Iona, Staffa and Unst.
Notes:
1.    Several species of seabird on the island of Canna had suffered population declines as a result of predation by an introduced population of Brown Rats. With funding from the EU LIFE Programme and Scottish Natural Heritage, the National Trust for Scotland carried out a successful programme to eradicate rats from the island in 2005 and 2006. Two years of intensive monitoring followed which confirmed that the island was rat free.
2.    The Islands of Mingulay and Berneray are under the care of the National Trust for Scotland and are designated as a Special Protection Area for seabirds. They host the largest colony of Razorbills in Europe and 13 other species. Since 2013, the National Trust for Scotland, with financial assistance from Scottish Natural Heritage, has been carrying out detailed studies of the breeding success of this colony with a party of 2 or 3 ornithologists stationed on the island for the summer months.
3.    The National Trust for Scotland is one of Scotland's leading conservation charities, which relies on the financial support of its members and donors to fund its important work of caring for the natural and cultural heritage of Scotland for everyone to enjoy.
4.    You can join the National Trust for Scotland for as little as £5.95 per month for a family. To become a member, visit http://www.nts.org.uk/Join/Benefits/.
All information and photos contained herein provided by the National Trust for Scotland