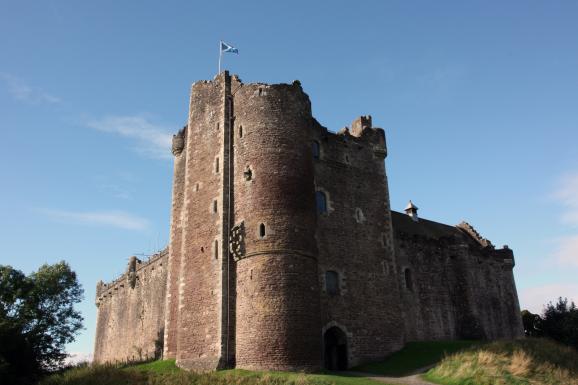 Visitors to Doune Castle this weekend will have the opportunity to travel back in time to the 16th century to find out how the castle would have prepared for a royal visit.
 
Fit for a Queen marks the arrival of Margaret Tudor, the Queen Dowager at Doune Castle, and explores both the build-up to the royal visit and the moment of the queen's arrival.
 
A Year of Homecoming 2014 event, visitors will be able to join in the celebrations and see the cooks, soldiers, and ladies of the castle preparing for the royal visit.
 
They will have the chance to find out what kind of food would have been made in the castle kitchens, and how ladies would have dressed for the occasion.
 
There will be musketry displays throughout the afternoon, and visitors will also have the opportunity to witness the arrival of the queen and to find out more about her life and that of her husband, James IV.
Costumed actress as Margaret Tudor
 
Lorna Ewan, Head of Visitor Experience, Content and Learning for Historic Scotland, which runs the castle said: "Built for the Regent Albany, Doune Castle served as a retreat and hunting lodge for Scottish monarchs, and was used as a dower house by a number of royal women including Margaret Tudor.
 
"The arrival of a queen would have been an exciting time at the castle, with detailed preparations taking place ahead of such an important visit. Fit for a Queen will give visitors to the castle a glimpse into the arrival of Margaret Tudor, offering an insight into both the preparations the castle would have made for hosting royalty and the life of Margaret Tudor herself."
Fit for a Queen will run between 12-4pm on Sunday 7 September. Entry is included in admission to the castle.
 
                                                             
 
Scotland welcomes the world in the Year of Homecoming 2014 providing a year-long programme of events alongside the Ryder Cup and Commonwealth Games. The Year of Homecoming Scotland will run until 31 December 2014 throughout the length and breadth of the country. Visitors from around the world are invited to join in a celebration of the nation's food and drink, active pursuits, cultural heritage, nature and ancestral heritage. Homecoming Scotland 2014 is a Scottish Government initiative being led by EventScotland and VisitScotland, supported by numerous partners. To find out more visit www.homecomingscotland.com. For more on Historic Scotland's Homecoming activities visit http://homecoming.historic-scotland.gov.uk/ or instagram or tweet using the hashtag #hshomecoming
All information contained herein courtesy Historic Scotland. Historic Scotland is an executive agency of the Scottish Government charged with safeguarding the nation's historic environment. The agency is fully accountable to Scottish Ministers and through them to the Scottish Parliament. For more information visit www.historic-scotland.gov.uk
Feature photo of Doune Castle courtesy Wikimedia Commons: wikifan75
Actress photo courtesy of Historic Scotland