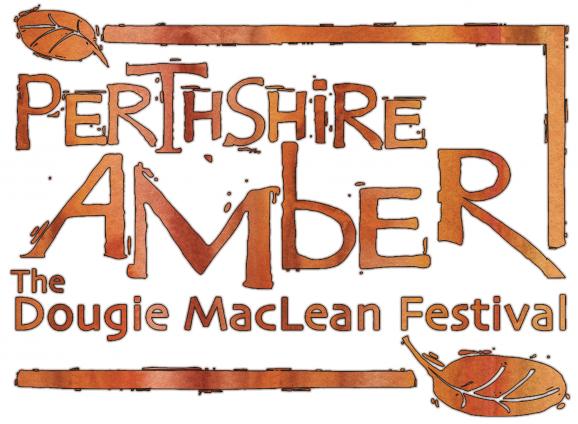 Highland Perthshire has glen and Highland, waterfall and rock face. It's a landscape Perthshire native  singer and songwriter Dougie MacLean knows well. Perthshire has inspired much of his music, and it is perhaps what was in his mind when he wrote Caledonia, the song of a Scot far from home which has become almost a second national anthem for
Scotland.
Traveling the world with his music and thinking of his home ground gave MacLean the idea for the festival known as Perthshire Amber. "I've traveled all around to different countries playing festivals, and I thought it would be nice to have one here at home," he says. What at first comprised just a few concerts with friends over a weekend has grown into a multi day festival at the end of October  (festival dates this year are 26 October through 4 November). There are still those concerts with friends, as well as workshops, talks, an open mic, informal sessions, and this year the addition of Amber Afternoons, an additional concert series to open up the music to audiences at different times of day. There's also long running participation in giving back: knitters and those who work in fabric crafts from around the world pitch for The Big Knit. to make blankets and other projects which are auctioned off to help those in need of aid, with proceeds given to Shelter Scotland. There's also Amber Harvest, where festival goers may bring food goods which are given to a charity which helps those down on their luck.
Headliners this year include the power fiddle group Blazin' Fiddles, with fiddle  players and styles from across Scotland joining up; Gaelic singer Julie Fowlis, whose music you've met here at Journey to Scotland and heard in the film Brave; Scottish tradition bearer Sheena Wellington, award winning Scots singer and songwriter Emily Smith, top HIghland fiddle player Duncan Chisholm, and choirs of singers and hand bell ringers as well. They will be appearing at venues including hotel ballrooms, concert halls, a distillery, a cathedral, one of Scotland's oldest libraries, and a crannog. In past years, some events have been made available on line, so if you'll not be making it out to the festival itself, you may want to keep an eye out on the festival web site to see if that may be happening this year.
https://www.dougiemaclean.com/
http://musicroad.blogspot.com/2011/06/julie-fowlis-live-at-perthsire-amb...