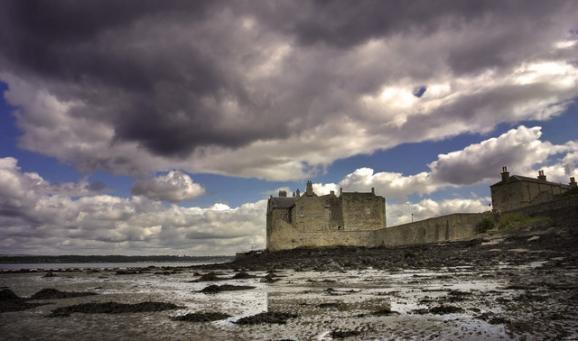 Some of Scotland's top heritage sites take a starring role in the eagerly-anticipated new TV series 'Outlander'.
The production, which debuts on US TV on Saturday 9 August, was filmed at a number of popular and picturesque sites owned and cared for by the National Trust for Scotland and Historic Scotland.
Earlier this year, both heritage organisations welcomed the cast and crew of 'Outlander' to their properties for the filming of the hotly-tipped television show.
The series is adapted from Diana Gabaldon's internationally best-selling novels and follows the story of Claire Randall (Catriona Balfe), a British nurse in the 1940s who falls through a stone circle while visiting Inverness and finds herself in the 1740s on the brink of the Jacobite uprising  and is forced to marry highlander Jamie Fraser (Scottish actor Sam Heughan).
It has been adapted for American television network Starz and executive produced by Ronald D. Moore, well-known for producing the hugely successful sci-fi series 'Battlestar Galactica' and 'Star Trek: Deep Space Nine'. The production set up their studio in Cumbernauld with a mostly British cast and crew and took advantage of the incredible settings that Scotland offers.
Preston Mill
The National Trust for Scotland properties that have provided backdrops for the filming include parts of Falkland in Fife, home to Falkland Palace and the setting of some of the 1940s scenes; the historic village of Culross and Culross Palace and the picturesque Preston Mill in East Lothian.
Culross
Historic Scotland properties to feature in the series include Blackness Castle in West Lothian and Doune Castle, which stands in for the fictional Castle Leoch.
Anna Rathband, Filming Manager for the National Trust for Scotland, said:
"It's been an absolute pleasure to have 'Outlander' filming at some of our wonderful locations. The cast and crew have been fantastic to work with and our staff have hugely enjoyed welcoming them to our properties. Our locations are very film-friendly and we are delighted that we are able to accommodate large-scale productions like 'Outlander'. We hope fans of the book and TV series will enjoy finding out more about the history behind the beautiful and atmospheric backdrops and perhaps feel inspired to come and visit themselves."
Gillian Urquhart, Events and Filming Manager at Historic Scotland said:
"Diana Gabaldon's series of Outlander books have a huge international fan base and anticipation for the TV series among US fans has been building for some time now. We are delighted that Outlander has filmed scenes at two of our historic sites and look forward to seeing them on the small screen. Doune Castle has a colourful history and makes for a beautiful and atmospheric Castle Leoch. It can be seen in scenes set in both the 18th and 20th centuries, looking rather different in each, thanks to some incredible CGI."
National Trust for Scotland locations have previously been featured in 'Skyfall', 'Captain America: The First Avenger', 'The Last of the Blonde Bombshells', 'The Little Vampire', BBC's 'Winterwatch', 'Antiques Road Trip', 'The 39 Steps' and many more.
Outlander is produced by Tall Ship Productions, Story Mining & Supply Company and Left Bank Pictures in association with Sony Pictures Television. The first episode of 'Outlander' screens in America on the Starz network on Saturday 9 August.
All information contained herein provided by the National Trust for Scotland
The National Trust for Scotland is one of Scotland's leading conservation charities, which relies on the financial support of its members and donors to fund its important work of caring for the natural and cultural heritage of Scotland for everyone to enjoy. Find us online at http://www.nts.org.uk, on Facebook - https://facebook.com/NationalTrustforScotland and Twitter - https://twitter.com/N_T_S.
Photos courtesy Wikimedia Commons:
Blackness Castle - Keith Proven
Preston Mill: Renata Edge
Doune Castle: John Salmon
Culross: james denham
Some of Scotland's top heritage sites take a starring role in the eagerly-anticipated new TV series 'Outlander'
Posted by: Jessica Voigts