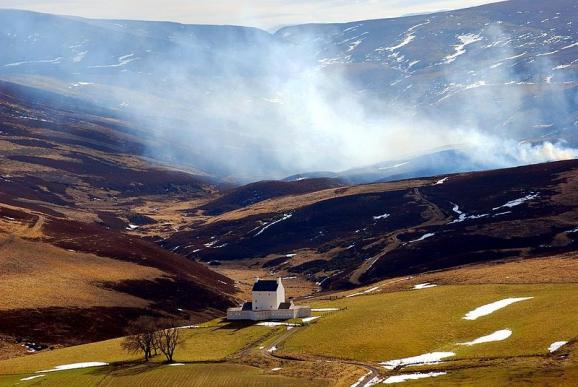 Visitors to Corgarff Castle in Aberdeenshire this week will have the opportunity to travel back in time to the 18th century, in Meet the Garrison, as members of the Lace Wars re-enactment society depict the daily life of a soldier living in the barracks in the 1750s.
 
A Year of Homecoming 2014 event, Redcoat soldiers will be occupying the castle on 16, 17 and 18 September to tell the story of Pulteney's Regiment (13th Foot), which occupied the castle in the mid-18th century.
Signpost for Old Military Road, Corgarff Castle. Photo Wikimedia Commons: Stanley Howe
 
Visitors will be able to hear the soldiers' tales as they explain why they are occupying the site and give presentations on daily life in the castle. There will also be drill displays and weaponry displays.
Lorna Ewan, Head of Visitor Experience, Content and Learning for Historic Scotland, which runs the castle said: "Redcoats arrived at Corgarff Castle after the Battle of Culloden in 1746, and the castle was gutted internally to make way for soldiers' barracks. Meet the Garrison is an opportunity for visitors to learn more about this fascinating period in the castle's history, and with weaponry and drill displays as well as presentations on castle life, it promises to be a fun and informative event for the whole family."
Meet the Garrison will take place from 10-5pm on 16, 17 and 18 September.  Entry is included in admission to the castle.
    Historic Scotland around the web:
 
           Twitter:     @welovehistory ; @edinburghcastle ; @ScottishTen
           Facebook:     www.facebook.com/visithistoricscotland
           Pinterest:     www.pinterest.com/welovehistory
           YouTube:     www.youtube.com/historicscotlandtv
           Instagram:     www.instagram.com/historicscotland
           Homecoming:     www.historic-scotland.gov.uk/homecoming (#hshomecoming)
           Blogs:     www.stirlingcastle.gov.uk/blog
            www.edinburghcastle.gov.uk/blog
           Google+      www.google.com/+historicscotland
All information contained herein provided by Historic Scotland
Feature Photo courtesy Wikimedia Commons: Camer01