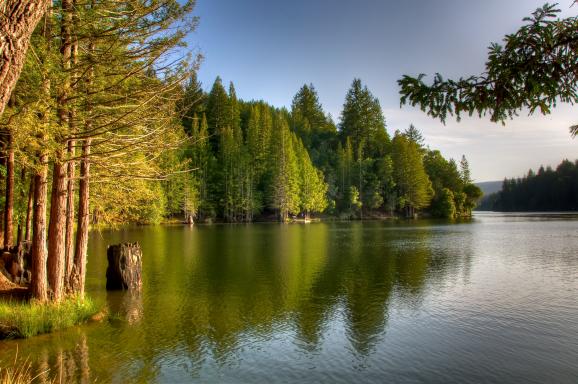 "By yon bonnie banks and by yon bonnie braes
where the sun shines bright on Loch Lomond ..."
There's a fair chance than many of the people across the world who sing that song don't know where Loch Lomond is, and some of them may not be too sure where Scotland is either, for that matter. What about that song itself?  Where did it come from?
You'd likely find the first published version of it in a Victorian era songbook, with the familiar melody but with lyrics written a Victorian style, telling a tale of lovers parted during the time of Bonnie Prince Charlie. The lyrics you most likely know may have  come from Charlie's time in the 1740s, actually, or they may be much older.
There are many stories about what the lyrics mean, especially the "you take the high road and I'll take the low road" part. Some say that had to do with the differing fates of enlisted military and volunteers during the Jacobite era, some say it harked back further to medieval times, and then there's a story which fits across the centuries. That's the tradition that when a person from Scotland dies far from home, his spirit is led back to his native land, along the low road, by  the fairies.
The path of the  melody is somewhat easier to follow: it goes back far into Irish tradition so most likely came over the water from there, as  part of a song called Red Is the Rose. Irish singer Tommy Makem brought that song to the world's notice in the mid twentieth century. The chorus goes like this
Red is the rose that in yonder garden grows
 And fair is the lily of the valley
  Clear are the waters that flow from the Boyne
    But my love is fairer than any
Still, it is the waters of Loch Lomond that remain entwined with the melody. Benny Goodman made Loch Lomond swing in a jazz influenced fashion, it's been sung on the Lawrence Welk Show and by rockers AC/DC, the King's Singers have given in a chorale setting, and it's played by the band at American football games at Notre Dame. It is still very popular in Scotland, too, often coming in at the end of concerts as a chance for the audience to sing along.
That's what happens at the concert in this video, which was shot in Glasgow as the Celtic folk rock band Runrig took fans along into the power of the song. Chances are you may very well be singing along yourself, too, by the end of it.
 
Feature photo courtesy of flickr creative commons: http://www.flickr.com/photos/ddebold/4530849620/