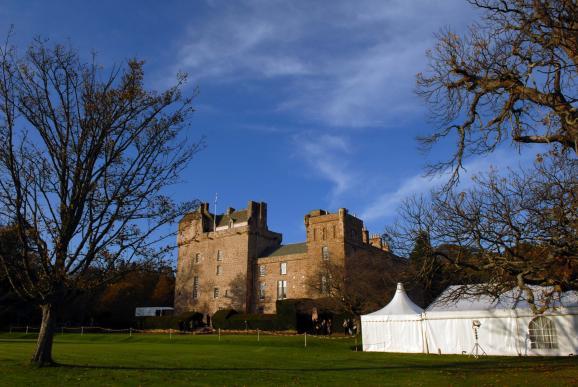 A weekend of words and wit with some of today's best known writers and personalities, at one of Scotland's great country houses.
This fall, from 2-4 November, at Lennoxlove House, Haddington, experience a weekend of sparkling book talk and a family Book Festival!
Lennoxlove is not just about seeing your favourite authors at their events. Throughout the weekend, there are things to do and places in which to relax, shop and eat, all
within the magnificent setting of one of Scotland's great country houses.
From last year's festival bulletin: for families, the Knight Frank Family Book Festival offers a selection of free activities including Storytime, Bookbug rhyme sessions, craft workshops provided by East Lothian Library Services, and the free mobile library van which will be at Lennoxlove throughout Saturday. In addition, there will be scheduled and ticketed events with some of our best-loved authors for children aimed at a cross-section of ages. Circus performers will be on hand throughout the weekend to entertain and maybe teach you a few tricks, while, to mark Guy Fawkes' night, there will be a spectacular fireworks display to open the Festival.
The 2011 festival included:
Opening with a Bang!
Claire Tomalin on Charles Dickens
Michael Morpurgo's War Horse
Norman Davies
Michael & Rebecca Frayn
Alistair Darling
Bodymore, Murderland with Kelvin Sewell & Stephen Janis
Mark Buckland
You Can Draw the Horrible Histories with Martin Brown
An Introduction to Writing for Children with Vivian French
Bookbug Rhyme Session
A Brief History of Time with Adam Hart-Davis
Willis Pickard
The Scariest Thing of All with Debi Gliori
Storytime
The Scots: A Genetic Journey with Alistair Moffat
Nick Davies - How to be Great at the Things You Hate
Genetics for Kids with Gill Arbuthnott
Get Crafty
Alys Fowler
Fleshless Skulls...with Ross Collins & Vivian French
James and the Giant Peach 50th Birthday Party
Flat Stanley
Sarah Brown
Janice Galloway
Historical Fiction: Love, Sex and Betrayal
Mark Beaumont - The Man Who Cycled the Americas
Allan Little
Hacking Unhacked
Isla Blair
James Naughtie - A Funny Thing Happened....
Barbara Dickson
Sir Charlie Stinky Socks with Kristina Stephenson
Tyne & Esk Writers Present
Bookbug Rhyme Session
Fairies, Rodents & Gruffalos with Julia Donaldson
Writing Opportunities in Today's World of E-Publishing
Invisible Fiends with Barry Hutchison
Storytime
How to Make a Publisher Say Yes!
Tam Dalyell
Agatha Parrott with Kjartan Poskitt
Pants!
Writer's Cramp
Funny Food with Nick Sharratt
Haunted with Eleanor Updale
Get Crafty
Andrew Murray - Running Beyond Limits
Robin Bayley
John Byrne
Hugh Johnson
Sally Magnusson
Tom Devine
Bill Paterson
Look for more details on the 2012 festival, coming soon...
To learn more, please see:
http://www.lennoxlovebookfestival.com/