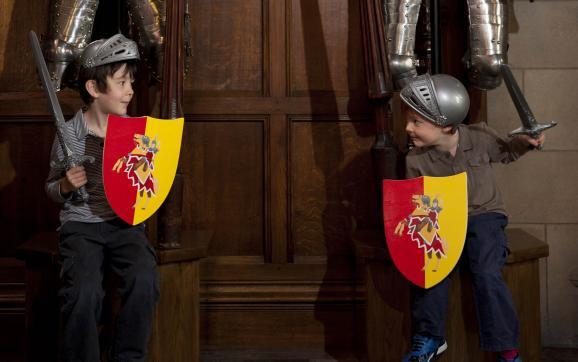 Four suits of Royal Armouries' armour, worn by mounted cavalry in the early 17thcentury, have been returned to the Great Hall at Edinburgh Castle.
They were removed eight years ago to allow for essential conservation work on the metal work and leather strapping and to create more secure mounts.
Nick Finnigan, Executive Manager, Edinburgh Castle said: "We are delighted to receive the armour back from the Royal Armouries. These beautifully conserved pieces provide a magnificent centrepiece to the Great Hall and add to the visitor experience at Edinburgh Castle."
Seven year old Wyatt Sell defends one of the newly-restored Coats of Armour recently returned to the Great Hall at Edinburgh Castle.
James IV's Great Hall was restored by the notable Edinburgh architect Hippolyte Blanc in 1886 and was subsequently filled by General Lyttleton Annesley, Governor of the Castle with a huge number of arms and armour to create a magnificent Victorian trophy room.
Royal Armouries' Director Peter Armstrong said: "It is great news that these fine examples of early 17th century armour are now back in the historic setting of Edinburgh Castle's Great Hall. Our conservation team is constantly striving to maintain its worldwide  reputation as a centre of excellence for the conservation of arms and armour, and this was a fine opportunity to showcase their work."
All information contained herein provided by Historic Scotland, an executive agency of the Scottish Government charged with ensuring that our historic environment provides a strong foundation for a successful future for Scotland. The agency is fully accountable to Scottish Ministers and through them to the Scottish Parliament. For more information visit www.historic-scotland.gov.uk  
 
 
Feature photo:
Seven year old Wyatt Sell (left) and his four year old brother, Ethan Sell with the newly restored Coats of Armour in the Great Hall at Edinburgh Castle
Knights in Shining Armour return to Edinburgh Castle
Written by Jessica Voigts