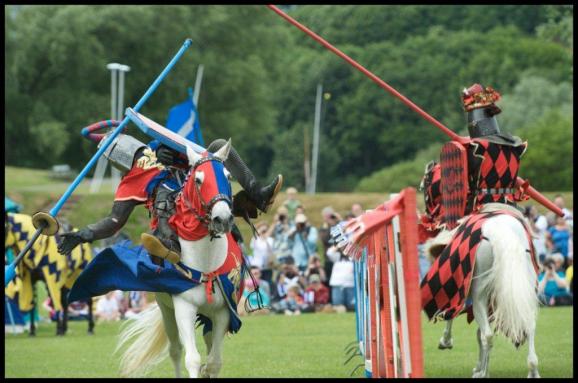 Our daring knights are returning to the stunning setting of Linlithgow Palace Peel, the birthplace of Mary, Queen of Scots, to stage an unforgettable display of horsemanship and skill.
 
They will be appearing on Saturday 29th and Sunday 30th June and the following weekend, Saturday 6th July and Sunday 7th July 2013 from 12:30 – 4:30 pm.
 
Come along and hear the thunder of hooves and the crack of lances splintering as our knights battle it out into the arena.

 
Gillian Urquhart, Events Manager at Historic Scotland said: "This is a fabulous day out for all the family.  Linlithgow Peel is the perfect setting for this dramatic display of horsemanship as you cheer on your favourite knights to victory.
 
"In addition to the jousting on the Peel there will be a colourful medieval encampment and full programme of supporting activities and presentations including demonstrations on how a medieval knight would dress for war.
 
"Young knights and ladies will also be given the chance to see if they have what it takes to defeat our fearless knights.
 
"Meanwhile Linlithgow Palace will be transformed to the Renaissance period.  Visitors will have the opportunity to view beautiful birds of prey and be entertained by our Jester.  Meet the Palace Guard who will explain how he will be getting prepared for battle as rumours of war sweep through Edinburgh and Linlithgow.
 
"Come and find out what Linlithgow's ladies would be wearing in the year 1513  and meet Margaret Tudor, the wife of James IV King of Scots, who will recount her tale of peace, fear and suspicion in the Scottish Court."

 
 
For information:
 
Tickets: Tickets are available on the day, or BUY ONLINE in advance and receive 10% discount.
 
www.historic-scotland.gov.uk/jousting
 
 
Historic Scotland Members: Guaranteed free entry - simply show your membership card on the day (no ticket required)
 
Adult (16-59yrs): £12.00
Concession (over 60yrs): £9.60
Child (5-15yrs): £7.20. Under 5's free
Historic Scotland Members: Free
 
Family Scenarios
1 Adult & 2 Children:   £26.40
2 Adults & 2 Children: £38.40
2 Adults & 3 Children: £45.60
 
Parking
 
Free park and ride is available on the event days from The Oracle Car Park, Springfield, Linlithgow EH49 7LR (formerly Sun Microsystems). Buses will be wheelchair accessible.
More on Linlithgow Palace
 
All information and photos contained herein provided by Historic Scotland