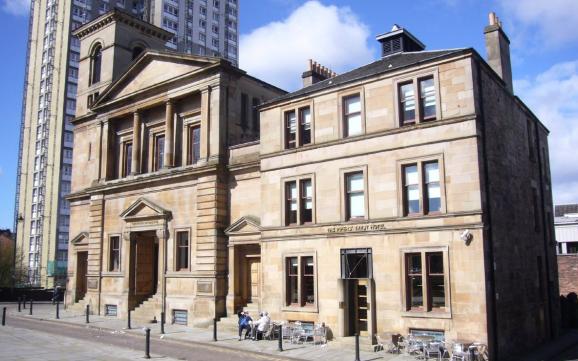 Bagpipes: the sound and the symbol of this instrument are what people across the world think of when they think of Scotland. The pipes are very real instruments, turning up in historical records in Scotland at least as far back as the 1400s and perhaps arising much earlier. Today pipes appear in pipe bands who play marches and strathspeys and as instruments for composers who create in both traditional and contemporary styles.
You may learn about all this -- and hear pipe music in concert, take tuition in playing yourself, have a dram or a tasty meal, and perhaps even stay overnight at the small B&B -- at The National Piping Centre in McPhater Street just a few steps from the city centre in Glasgow.
The museum is the heart of it all. Physically rather small, it is nevertheless packed with information on past and present of the pipes, covered in well designed displays. After a visit to the museum, you may find yourself inclined to purchase music CDs or instructional material or perhaps a practice chanter (that's the part of the Highland pipes that you play with your fingers) at the adjacent shop.
There's a performance space upstairs, a room which can seat up to one hundred fifty people and which welcomes events -- not just piping ones-- during Celtic Connections in January and at many other times of year. The Pipers Tryst Hotel offers eight rooms and a warm welcome, and you'll find a good welcome and a good menu at the Pipers Tryst Restaurant as well.
Piping Centre photo flickr cc: Mike Bean
The building itself began life as a Protestant church in the 1870s. The three stained glass windows above the main entrance, though, were commissioned by the Piping Centre. They are by artist John C. Clark,  and through abstract and representational design have to do with pipe music in varied ways: one is a seascape calling to mind the sound of  piobaireachd, the melodic side of piping, another suggests the use of the pipes in marches, and a third alludes to a classic bit of music, a favorite of the glass artist, The Flowers of the Forest, with bluebells prominent as well as oak, ash, apple, and rowan, all of which hold place in the folklore of Scotland.
Wikimedia Commons: Thomas Nugent
You may want to know that while The National Piping Centre is just a few steps away from Glasgow's city centre  -- it's just behind the Royal Conservatoire of Scotland and not far from the Glasgow Royal Concert Hall -- from most approaches you'll need to cross a very busy multi lane Street, Cowcaddens Road, to get to it. Even at evening when there is often less traffic than in the day, drivers come around this road at a fast clip, so take care when crossing, coming and going. You may also want to know that this more than century old building has steps up to its entrances and stairs within, up to the performance area. If this is a concern, inquire with center about alternative ways to get around.
The National Piping Centre
30-34 McPhater Street
Glasgow G4 0Hw
http://www.thepipingcentre.co.uk
***
Kerry Dexter is an editor at Journey to Scotland, where you may often find her writing about places, events, and people connected to music, history, and the arts.
Find Kerry's work also in Wandering Educators, National Geographic Traveler, Ireland and the Americas, Perceptive Travel, and other places online and in print, as well as at her site Music Road.
Feature photo: Piping Centre via flickr cc: John Lord
The National Piping Centre is located in McPhater Street, just a few steps from the city centre in Glasgow.
Posted by: Kerry Dexter