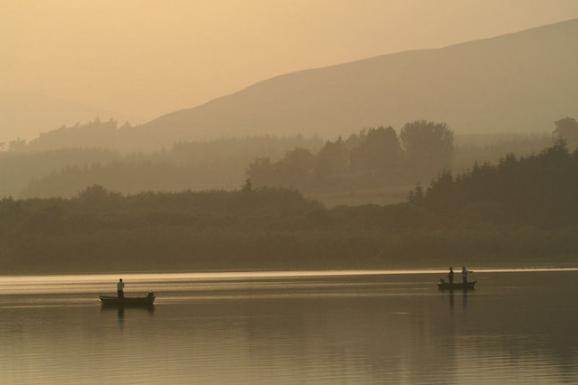 There's no better place to be outside than in the gorgeous landscape of Scotland. And there's no shortage of things to do, either – from exploring the lands to seeing wildlife, from mountain biking to fishing – through it all, the beauty of Scotland shines through. This is a country for getting outside! While you're making your travel plans, be sure to arrange UK travel insurance cover, find the best places to stay, and, of course, do some research (including here on Journey to Scotland!) on what and where to eat. For we all know that getting outside means getting hungry!
Here are 8 ways to get outside in Scotland:
 
Golf course by Morar, Scotland. Jessie Voigts, Journey to Scotland
Walking, trekking, climbing
Follow a long tradition of walking in Scotland – you can have a variety of experiences! Stroll the beaches on the coastline, wander through the countryside, or get a bit more strenuous, climbing the many bens. You can learn more at Visit Scotland's Walking in Scotland page, which shares the 26 Great Trails, long distance walks, and more. One of the walks we love is the Antonine Wall. Constructed about twenty years later than Hadrian's Wall, the Antonine Wall is one of the archaeological sites that makes up the umbrella UNESCO World Heritage Site 'Frontiers of the Roman Empire'. 
Tentsmuir Forest, Fife, Scotland. Wikimedia Commons: Macieklew
Golf
Golf was born here. You'll find history at St Andrews, and plenty of great links all over the country - there are over 400 golf courses in Scotland. Be sure to book ahead, as this is very popular, especially for larger/championship courses.
Captain David Campbell, Allan Robertson, Tom Morris, Bob Andrews, Sir Hugh Playfair and Watty Alexander. 'St Andrews Golfers'. National Galleries of Scotland Commons
Cycling
Did you know that you can bike or mountain bike all over Scotland? Serenely pedal your way along canal paths, or hit some slopes, hardcore. You'll find paths, routes, and trails – whatever fits you best, you'll find it.
The 'Boundary Trail' at Glentress The view (on a good day!) from the Boundary Trail at Glentress, the Scottish mountain biking mecca. The centre has numerous tracks for bikers, and this is on the 'black' - allegedly the most difficult. Although the whole centre can get very busy, more skilled and adventurous bikers can still find space and solitude by taking the longer and more demanding trails. Wikimedia Commons: Ian Wilson
Watersports
Scotland has over 1600 miles of coastline, and plenty of inland water, as well. Whilst in Scotland, you can kayak, canoe, sail, windsurf, charter a boat, go river rafting, stand up paddleboarding, jetskiing, boating, diving, surfing, and, of course, go swimming. The ocean can be cold, so plan on bringing or renting a wetsuit and gear. 
A surfer enjoying the evening waves at Ravensheugh Sands, Tyninghame Beach. Wikimedia Commons: Lisa Jarvis
Inveraray Bridge on Loch Fyne. The spires of Inveraray Castle can just be seen on the left. The hill behind the bridge is Dun Corr Bhile. Wikimedia Commons: Michael Parry
Hit the slopes
Did you know you can ski and snowboad in Scotland? There are five locations to do so – Glencoe, Glenshee, Cairngorm, Nevis Range, and the Lecht. http://ski.visitscotland.com/ has an alert for new snowfall. The main season for this is January-April, although some areas get snow a bit earlier, depending on the year. That site also has piste maps, and a variety of excellent tips.
Skiers arriving on Cairngorm. Wikimedia Commons: Andy Waddington
Fishing
Scottish salmon is renowned the world over. But there are many more fish to be caught – hire a ghillie (guide), and try your hand at fly fishing lochs or rivers. Go sea-fishing with a charter. There is no license needed to fish in Scotland. However, most of the land you can fish on is owned privately, and so you'll need to get a permit locally. There are defined seasons for both salmon and sea fishing, so plan carefully. The most popular fishing areas are the Tay and the Tweed.
Landing a Hen Salmon on the River Oykel. Wikimedia Commons: Donald Bain
In the net! Angler & Ghillie land a salmon from Loch Stack with Ben Arkle behind. Wikimedia Commons: Paul Twambley
Horseback riding
Pony trekking originated in Scotland, and there is a plethora of trekking paths crossing the country. You can ride across moors, through passes, on beaches, and discover hidden gems. One of the best places to explore on horseback is  'singing sands' of Lunan Bay, where you can see interesting birds, sit and watch dolphins, hop off and look for agates, and explore the best beach in Scotland.
Lunan Bay. Wikimedia Commons: Anne Burgess
Horse riding on White Law. Wikimedia Commons: Walter Baxter
Wildlife 
Scotland is rife with wildlife, and you can see them on nature reserves, visitor centres, and on wildlife tours. One of the best sites to explore these options is Wild Scotland. You can see wildlife both on land and on the water – including basking sharks, dolphins, seals, and puffins and other seabirds. Scotland is Europe's #1 wildlife watching destination!
Puffins at Lunga, Treshnish Isles, Scotland. Wikimedia Commons: Steve Deger
The Scottish wildlife Trust visitor centre at New Lanark, Lanarkshire, Scotland. Wikimedia Commons: Rosser1954
Where will you go first, to explore Scotland's great outdoors?
Feature photo:  Fishermen on Loch of Lintrathen. Wikimedia Commons: Mike Pennington