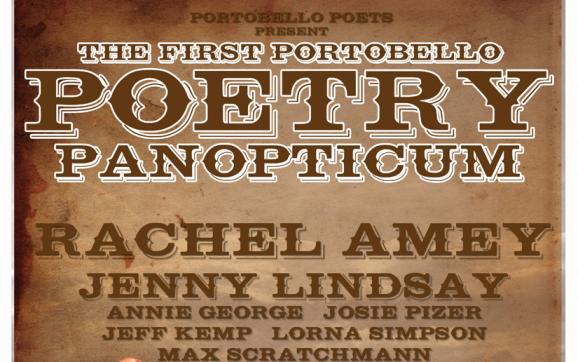 The Portobello Poets are a newly-formed group of poets from Portobello and around and were formed as the result of an Inky Fingers workshop on performance poetry led by Jenny Lindsay.
Their first public performance is on Sunday 28th July at 2 pm at Portobello Library, 14 Rosefield Avenue, EH15 1AU, Edinburgh.
The event will be introduced by Jenny Lindsay and the featured poet is Portobello's own Rachel Amey.  Also performing are Josie Pizer, Annie George, Jeff Kemp, Lorna Simpson, and Max Scratchmann.
There is also an open mic section and any poet is welcome to come along and read for a five minute slot.  There's no need to book in advance, just turn up and sign-up at the door.
Jenny Lindsay is a professional performance poet & winner of the 2012 BBC Fringe Festival Slam. She has over 10 years of performing experience, and has run events in Edinburgh such as Big Word, Is This Poetry? and Rally & Broad, Edinburgh's newest literary cabaret.
I have no home in my bones...
I have no home in my bones,
Glasgow,
no life to suck from your stones
no call from your painted names
no place quite sure
in your one way this way stop start squares
and cities confuse me
the sections of sky
shared out between sandstone
built for what and by whom
the shops at their feet
like shiny shoes
that twinkle at me
to try them on
the twisted alleys
grass on walls
men beside gates
sneaking cigarettes
that funded the
fronts of the
buildings
they work through
I have no home in my bones.
Glasgow
you - you're a master of it
You could ride a bucking bronco anywhere
gravity sunk deep
and swaying with the punches
pulling out surprises
one hand stretched all the way to the sky
I'd put money on you
to ride for your lives
all six hundred thousand
held up high
I have no home in your bones
Glasgow
with my vowels from the south
and my train ticket back to the east tonight
and my blind spots shining for all to see
And I'm envious
and not
can glamourise
your crime and sweat
and fear and grime
though I like your funky soul
I just dont get you,
Glasgow
Thats the thing.
I can see
quite clearly
that you
are not
to be
got.
Copyright © Rachel Amey
Beach Walk
Shells that held
countless lives
form a tide-chattered shoal
of fragile shapes that blur,
break and disintegrate
into sand.
The over-arching sky
curves aside until
west re-unites with east,
unseen as hands
interlinked behind
the world's back.
I walk
the ocean's edge
measuring hopes and regrets
amongst these mementos
harrowed from
unimaginable depths.
Copyright © Jeffrey Kemp 2012
Mallaig Beach. Photo courtesy and Copyright © Jessie Voigts
To A Mousse
Wee sleekit coorin' timorous dessert,
Topped with cherries and a fresh cream squirt,
I see you tremble with anticipation,
As my spoon comes close to your sugar nation.
Oh, if ever a pudding could be blessed with legs,
Your fragile self but the whites of eggs,
And you cannot run as my spoon descends,
A lick, a lip-smack, and your life ends.
It is no longer a world of mousse and man,
But of empty bowl and whipped cream can,
So, pudding, reflect on the vagaries of fate,
While I lick my spoon and clean my plate.
Copyright © Max Scratchmann via http://comicpoems.wordpress.com/
For more information, please see: http://talesofonecity.wordpress.com/2013/07/11/the-first-portobello-poetry-panopticum/
Feature photo courtesy and copyright Max Scratchmann