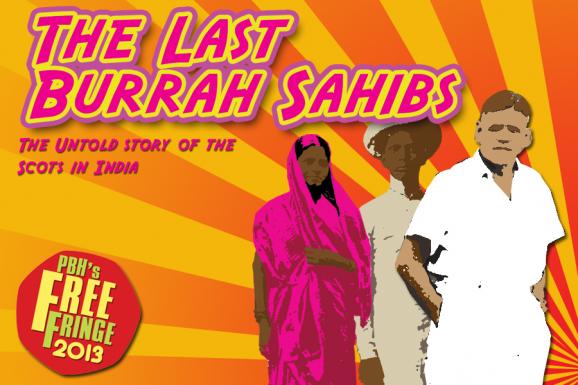 Story Highlights:
The Last Burrah Sahibs: An Evening of Story-Telling with Max Scratchmann at the Edinburgh Festival Spoken Word Fringe
The Last Burrah Sahibs
An Evening of Story-Telling with Max Scratchmann at the Edinburgh Festival Spoken Word Fringe
After being compulsorily retired from an Indian jute mill and returning to Dundee in the mid 1960s, Max Scratchmann's family cannot settle down to life in Scotland. So, when the chance of a three-year contract in East Pakistan (now Bangladesh) is offered, they promptly fly off to live the colonial life one last time.
 
Aided and abetted by the mischievous Mafzal, his paan-addicted driver, eleven-year-old Max rediscovers the forgotten lifestyle of his early childhood, and meets a cast of colourfully eccentric characters amongst both the émigré British and the indigenous population along the way.
 
On the surface, life for jute wallahs' children may seem to be an endless parade of swimming pool parties and badly-dubbed Italian art movies, but growing political unrest and brushes with street rioting show that these are indeed stolen years, and The Last Burrah Sahibs is an engaging and heartfelt chronicle of growing up in a culture that is now well and truly lost.
The show will be on for four festival performances during August, as follows:
The Fiddlers Elbow (downstairs)
4 Picardy Place
Edinburgh,  EH1 3JT
Dates:  9, 16, 23 Aug
Time: 5:15 pm - 6:15 pm
The Serenity Cafe
8 Jackson's Entry, 111 Hollyrood Road, Edinburgh EH8 8PJ
Date: 19th August
Time 5 pm - 6 pm
All shows are free.
An excerpt from The Last Burrah Sahibs:
The December skies dawn blue-white and cloudless, and though the Yuletide evenings are cool and mosquito-ridden the days remain pleasant and sunny. Some men from the mill arrive to install a framework of strange wooden poles around my bed, and a heavy net tent is hung from it to repel the worst of the night vampires, but some still manage to get in and my arms are soon covered with ugly red bumps. Timmy, my dog, manages to burst the fragile contraption on its first morning, dashing into my room and leaping onto my bed, ripping the fragile net like a circus dog jumping through a paper hoop, and spidery darns grace my nights for the rest of the winter.
A boat has arrived from Britain bringing a parcel of Christmas goodies from my sister plus rolls of British newspapers from my dad's cousin, Bunty, and these strange heavy cylinders of print soon become a commodity more precious than gold in our little expat community.
My dad quickly trades his four-month-old copies of The Sunday Post with Wallace for some equally aged News of the Worlds, and even I manage to do a deal for a stack of Archie comic books with some American missionary's children in exchange for last summer's Beanos, and, all in all the papers end up doing the rounds of the entire jute wallahs' camp.
Christmas trees are also rarer than gold dust here, the only ones in the shops in town being strange velvet contraptions that look like assemblages of fat green cigars with beads on the ends of them, and, there being no handy young conifers to chop down, the vicar at the Christ Church doles out branches from his sparse firs in a seasonal lottery, with Heath-Robinsonlike contraptions standing shakily in impromptu crepe-paper-covered pots quickly gracing the houses of the chosen few.
A junior manager in my dad's employ offers his services to me as a tree-building engineer, and arrives at the house three days before Christmas Eve with a large artificial spruce, laboriously constructed out of wire and meticulously hand-cut paper, the boughs incongruously finished with bright paper flowers. My mother rolls her eyes at this perceived ethnic eccentricity, but I find the floral conifer quite fetching, and, as it turns out, our display is much envied by all over the next couple of weeks. Decorations are, likewise, hard to find and expensive to purchase, so I press Alfie and Mafzal into service, and we make yards and yards of brightly-coloured paper chains and bunting out of the fragile glassine paper that street children use to make kites, and we quickly festoon the house and verandas to mark the occasion.
No-one has received any Christmas cards from Blighty as yet, the estimated time of delivery being February or March, but locally produced cards depicting Asian artists' visions of Olde England in the snow begin to circulate, and the window sills quickly fill with greetings from the locality. However, just days before the big event, a thin blue Aerogramme does arrive from Dundee, containing Aunty Barbara's secret recipe for Clootie Dumpling, and the cook immediately sets to work with raisins and suet, sweltering over his hot coal-fired range as the massive pudding bubbles and spits for hours on end.
It seems strange to be sitting down to a traditional British Christmas dinner on a hot sunny day, but the British in India have never had any problem with building Little Englands wherever they go, and we duly work our way through oxtail soup, turkey and then Christmas pudding, the festivity completed with crackers made from crepe paper and old toilet rolls with bazaar-bought plastic toys and homemade paper hats.
We have all been down to the new market to purchase gifts, and I have bought locally-produced cologne for my mother, which she promptly decants into an old designer bottle so that she can lord it over her friends, while my father is ecstatic with his HP Sauce, a delicacy costing an exorbitant eighteen rupees a bottle from the classiest grocer in town. Mafzal is easy to please, and I get him paan and cigarettes, whilst Alfie presents more of a challenge, but I eventually settle on a fountain pen which I have gold-engraved with his nickname...
You can also check out Max's book, The Last Burrah Sahibs and its follow-up, Scotland for Beginners, at most book shops or online from Amazon or The Book Depository.
All photos courtesy and copyright Max Scratchmann