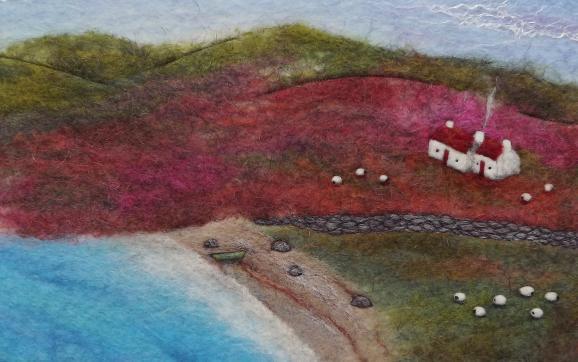 The colors of Scotland are not only memorable, but indelibly burned into our minds, even after just one glimpse. They are vibrant, lush, stark at times, and bring joy, for there is no other land quite like Scotland, is there? Luckily for those of us who don't see Scotland enough, artists and photographers step in and help us in between trips. One such artist is Aileen Clarke, whose textiles immediatly captured my eye. What I love about Aileen's art are the vibrancy, colors, and the immediate, almost subconscious knowledge that THIS is the essence of Scotland. She captures the fuzziness of Highland cows, the colors of the sea, the lilting landscape, the uniqueness of Scotland (via tartans and more), all with her artist's eye. It is extraordinary, Aileen's art. You'll see...
Textile trinket boxes
We were lucky enough to catch up with Aileen, and get the backstory on creating art, where she draws inspiration, creativity, and more. Here's what she had to say...
Please tell us about your art... 
I make a wide variety of textile art and craft using felt, fibre and stitch for one range and fused fabrics and stitch for the other. My work ranges from Wool Felt Pictures and Textile Boxes depicting little cottages and sheep to shimmering iridescent Textile and Resin Jewellery. I also make a range of Felt Jewellery including Sheep Pendants, Earrings and Brooches and have had a range of printed goods such as notebooks, cards and mugs produced using my artwork.
Moon and Sea pendant
Tartan Bird brooches
How/when did you start becoming an artist?
I have always been a creative person. I went to Art Collage straight from school and made my living as a florist for many years after that. I was always selling my art and craft on the side but really got into textiles about 7 years ago and started making a living from my art about 5 years ago.
Fisherman's Bothy
What do you draw inspiration from?
I live in a rural Fife in a little cottage surrounded by fields and highland cows so I'm never short of inspiration there. I adore the sea and we head for the west coasts and islands of Scotland and Ireland at every opportunity. I like wild places and unspoiled beaches, big skies, woods and meadows. I find new materials very inspirational as well. I love getting lots of colour and texture into my work and incorporating new fibres and fabrics into my pieces can really get the creative process going.
Rainbow cottage
Purple haze cottage
Peace by the Sea
Where are your favorite places to create art?
I like to work in my designated work space at home in our cottage. I have everything to hand there but if it's a nice day and I have some hand sewing or needle felting to do, I like to take it out to our little summer shed in the garden. When I am out and about I always have a camera to hand and I'm always taking photos for inspiration or to share on my blog. I will sometimes doodle when I'm on holiday but I prefer to get stuck into projects with everything I need at my fingertips so the real creativity takes place at home.
Scottish artist Aileen Clarke's workspace
Scottish artist Aileen Clarke's summer shed
What do you enjoy creating most?
I really enjoy getting all my materials out and creating textured backgrounds using my needle felting embellisher machine. This machine looks like a sewing machine but doesn't use thread. It has five barbed needles that mesh the fibres of the fabrics into a base fabric. I can loose myself for hours on a background piece, just letting the creative process take over and getting all sorts of different textures into the piece. You are not restricted to just wool fibres with this machine, you can use synthetic fabrics like voile and organza, devore velvet, muslin, scrim, lace and all sorts. I often cut up old clothes for their fabric to include bits here and there. It's great fun and you can do so many things with the end result.
Embellisher machine
Work in progress
How can readers find and purchase your art?
I use my blog as my website at www.AileenClarkeCrafts.com and I have a Facebook page for daily updates on what's new at www.facebook.com/AileenClarkeCraftsTextileArt
I also have a shop on Etsy.com at www.etsy.com/uk/shop/AileenClarkeCrafts
crafts collection
Is there anything else you'd like to share with us?
I will be bringing out a 2015 Calendar in September featuring 12 printed images of my Felt Art Pictures. The Calendar costs just £10 and makes a great gift. I can post my work all over the world and have lots of customers in Europe, the US, Canada and Australia as well as here in the UK. I can also send items as Gifts straight to the recipient with a note from the buyer at no extra cost.
Felt sheep jewelry
We are very fortunate here in Scotland to have some really great events to exhibit at. You can find me at The Morningside Makers Market in Edinburgh on Saturday 6th September and at various other events during October and November 2014. The list is on my website.
 
 
The Handmade show
All photos courtesy and copyright Aileen Clarke
The Essence of Scotland: Artist Aileen Clarke
What I love about Aileen's art are the vibrancy, colors, and the immediate, almost subconscious knowledge that THIS is the essence of Scotland.