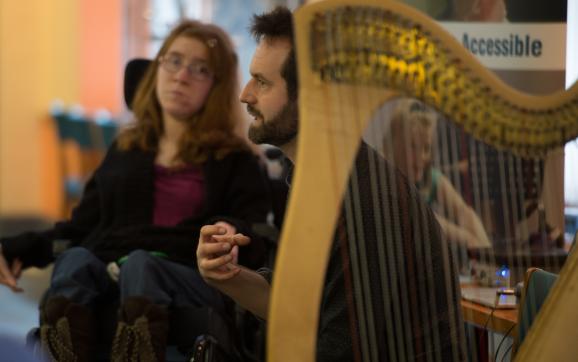 Harps were among the earliest instruments played by people in Scotland. In varied forms, they remain a vibrant part of Scotland's music, thanks in no small part to The Clarsach Society. This year, as the Society presents the 34th edition of the Edinburgh International Harp Festival, they spotlight in particular connections with the harp music and players of Ireland.
The festival, which runs from 10 through 15 April, includes courses for all levels of harpists from beginner to intermediate, talks, workshops, evening concerts, an open stage at lunch time, facilities for private lessons during the festival, and late night festival club sessions to keep the music going after formal events for the day are done.
Among the events taking place at the festival:
Storyteller and harper Heather Yule will hold pre festival sessions for children on 7 and 8 April, themed around the story of Jack and the Land without Music: participants will help Jack solve mysteries and bring back music to his land.
Mary Macmaster will teach a workshop on tunes arranged for two (or more) harps, while Maire Ni Chathsaigh and Chris Newman will explore and explain harp and guitar duet playing an arranging.
Scholar and player of historic harps Siobhan Armstrong will teach several workshops looking at ideas of what may be learned from historic harps, the music played on them, and why this is of interest today.
Rachel Hair will lead a workshop on music of lesser known Celtic cultures, from Canada to the Isle of Man to Spain to the Nordic lands.
There will be courses on jazz, for the harp, Paraguyan harp styles, Quebecois music, Irish music, music from Wales, as well as the music of Scotland. Beginners, child, teenage, and adult, will find courses which welcome them, including one called learning by ear for the terrified. More advanced players might take in courses on composition, or the harp and electronics, or ideas on teaching, on being a musical therapist, on working with singers, or on what it really means to construct and play a wire strung harp in a way informed by history.
Beyond harp-focused courses, there will be opportunities to begin learning Gaelic, and to come and try other instruments, including whistle, bodhran, and -- ukulele.
There will be an exhibition hall, with many of Scotland's and Europe's top harp makers and suppliers of related material on hand.
Then there will be the concerts. A stellar line up and inspired pairings will see, among other programs, Hermanos Corbalan with music of Paraguay share a bill with Allie Robertson, who will play original compositions as well as music from her native Scotland and from Quebec. A classically tinged concert will find Clouds Harp Quartet sharing the bill with Eleanor Tuner. The Irish aspect of this year's festival will be in full force as Maire Ni Chathsaigh and Chris Newman, Michelle Mulcahy, and Siobhan Armstrong and Roisin Elsafty share the stage to offer an evening of harp, guitar, and sean nos song.
More information about all this at http://www.harpfestival.co.uk/events/upcoming/
Photo courtesy of the Harp Festival, copyright Sean Purser