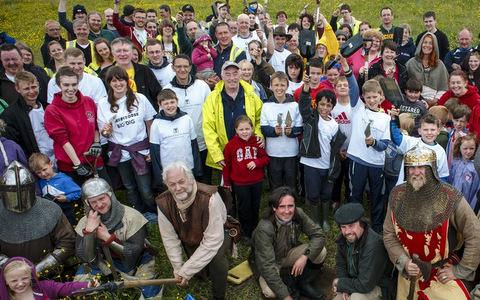 To mark the 699th anniversary of the Battle of Bannockburn (23 and 24 June 2013), the National Trust for Scotland's "Big Dig" took place over the weekend of 22 and 23 June.
Looking to shed new light on one of Scotland's biggest historical mysteries, the exact site of the Battle of Bannockburn, hundreds of volunteers from the local community took part in the mass archaeology project at the Braehead field near Bannockburn, to search for clues as to where elements of the 2-day-long battle took place in 1314.
The Big Dig is part of an on-going archaeology project being undertaken by the National Trust for Scotland in association with Glasgow University's Centre for Battlefield Archaeology, Stirling Council, GUARD Archaeology Ltd, and BBC Scotland.
Some elements of the work were filmed as part of a special two-part BBC Scotland series presented by Neil Oliver and Dr. Tony Pollard, which will go out in spring 2014 to coincide with the 700th anniversary of the battle. This is the first time that the duo have been reunited since the BBC series "Two Men in a Trench".
Pictured BBC presenters Neil Oliver and and Dr Tony Pollard with volunteers from the local community.  (Photograph: MAVERICK PHOTO AGENCY)
On Sunday 23 June five families also lent their back gardens to the project as test pits, allowing a search for objects lost during or after the fighting in 1314 in areas previously unsearched. The homes covered the areas of Braehead, Broomridge, Hillpark, and Milton in Stirling, which had been determined by experts to be of the most interest in exploring the battle.
All volunteers were supervised by experienced archaeologists and guided in hand excavation, finds discovery and identification, recording of discoveries and dating of artefacts.
David McAllister, Director of the Battle of Bannockburn Project said: "Community outreach is an integral part of the Battle of Bannockburn project and the turnout of volunteers for the Big Dig and Garden Search was excellent. Historians and archaeologists often have conflicting views as to where parts of the battle took place, and we hope that this work will bring new evidence to life. Our aim is to tell the story of the Battle of Bannockburn as accurately as possible at the new visitor centre opening in 2014."
 
As the archaeology project was launched last year, Neil Oliver said: "This has to be one of the most potentially exciting archaeological digs in Scotland that there has ever been."
Finds from the dig work will be analysed by experts, and full results will be announced in the special 2-part BBC Scotland series set to air in 2014.
The 699th anniversary marks one year to go until the new state-of-the-art Battle of Bannockburn visitor centre will officially be opened to the public, and the National Trust for Scotland's 3-day re-enactment event will take place over the weekend of 28-30 June 2014.
All information contained herein provided by the National Trust for Scotland
Photos: Hundreds of volunteers took part in the National Trust for Scotland's Big Dig over the weekend of 22 and 23 June, looking to shed new light on one of Scotland's biggest historical mysteries, the exact site of the Battle of Bannockburn. Filmed  as part of a special two-part BBC Scotland series the event marking the 699th anniversary of the Battle of Bannockburn (23 and 24 June 2013) aims to uncover clues as to where elements of the 2-day-long battle took place in 1314.  (Photograph: MAVERICK PHOTO AGENCY)