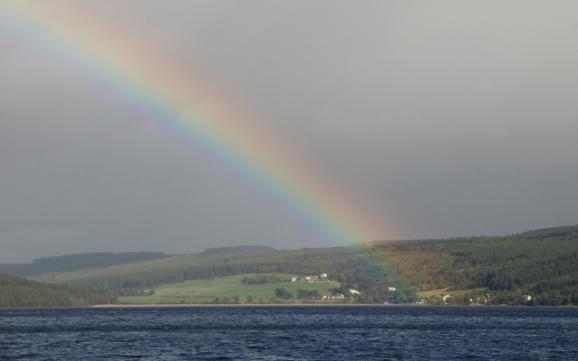 The mystique of Loch Ness, the scenic ruins of Urquhart Castle, the glimpse of a rainbow over the Loch – all these are yours to see when you take the Jacobite boat cruise on Loch Ness, in the Highlands of Scotland. Drive southwest of Inverness on A82 (on the north side of Loch Ness), to the Clansman Hotel (and Clansman Harbour). Park for free at the Clansman Hotel and cross under the underpass to get to the docks. You can learn more at the Jacobite Tours website.
walk under the bridget to get to the ship. 
There are a variety of tours – from one hour to over 6 hours, with stops at Urquhart Castle and possibly the Loch Ness Exhibition Centre in Drumnadrochit. It's a good idea to ascertain the state of the Loch before choosing to go – if it's super choppy, or raining hard, you'll have a less than pleasant ride. Pick a clear, sunny day, and enjoy!
The boats have both upper and lower decks. If you can snag a spot on the upper deck, you'll be able to see much more than from behind other tourists, peering around them and their cameras! So try to board first and head up the stairs. I recommend a seat at the back, so that you can see where you went and capture some rainbows, if possible! The front of the boat is crowded, with people eager to see where the boat is headed. However, almost all views from the boat are spectacular.
The boat will leave the Clansman Harbour and head toward Urquhart Castle. There are castle ruins there (lit gloriously up at night) and you can disembark and tour, if you'd like. Longer cruises will also head to other places, but if you have kids, try for a shorter cruise. There's not much room on the boat to run and play! 
Urquhart Castle, seen from the Loch Ness cruise
The best part about taking a cruise on Loch Ness is seeing the Loch from a different perspective.
You'll get a view of the rolling mountains, the glens tucked away, the clouds hovering over the tallest peaks. You'll ride the waves, while searching for Nessie. And, you'll feel the magic that Scotland works on you – a sense of belonging, of the timeless beauty of nature, and the joy of exploring history in real time.
Loch Ness on a rainy day
Hungry when you're done? Drive around to the other side of the Loch (go Inverness-way) and grab some fish & chips at the Dores Inn. We love it there. There's a lovely beach, and you might even spot Nessie.
All photos courtesy and copyright Jessie Voigts, Journey to Scotland