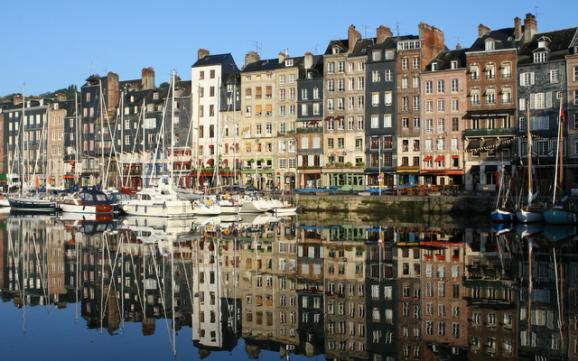 If you've ever wondered why the Isle of Man's triskelion flag bears such a striking resemblance to Brittany's curling emblem, or why Galician pipes sound so similar to Scottish bagpipes, the National Trust for Scotland may have the answer on their 2013 two-week cruise.
The cruise, called Celtic Connections, aims to draw links between several of the seven recognised 'Celtic Nations' and will call at the Isle of Man, Brittany, Galicia and Normandy, as well as sailing round the coast of Cornwall. The 'Celtic Nations' are all united by their languages, art, song and music, and came to prominence in the Celtic Revival of the nineteenth century.
Cruise Director Elaine Bruges says: 'Celtic culture is such an integral part of Scotland's heritage. We see it in medieval Christian crosses and hear it in the pipe and fiddle music. Travelling by sea between these Celtic ports, not only will our passengers be able to recreate the mode in which early Celtic societies spread their influence, they will also hopefully learn some new facts about the people so very entrenched in our national culture.'
The cruise will call at:
·         Greenock – Embarkation
·         Isle of Man
·         Pays de Loire, Brittany
·         Vilagarcia de Arousa, Galicia
·         Bilbao
·         Bordeaux
·         Honfleur, Normandy
·         Alderney, Channel Islands
·         Leith - Disembarkation
It's not only the Celts that connect these nine ports. Scotland and the Isle of Man are historically linked by military campaigns and shared architectural heritage, while the Scots have long held political and mercantile associations with France. The Spanish and French ports the cruise will visit are also connected by the centuries-old pilgrims' route, the Camino de Santiago.
Travelling onboard the cruise, Scottish broadcaster and writer Billy Kay will uncover the relationship between Scottish culture and French wine in a series of lectures that explore the themes in his book Knee Deep in Claret. Meanwhile art historian Margaret Campbell will examine the beautiful art at the heart of Celtic culture.
Passengers will be entertained in the National Trust for Scotland's inimitable style, with Celtic and classical musicians, open-air ceildhs, and intimate indoor concerts.
About the National Trust for Scotland Cruises
The first National Trust for Scotland cruise set sail 60 years ago, in 1953. Called the 'Gardens Cruise' it was created to transport passengers round some of Scotland's more remote gardens and beauty spots, either difficult to reach or downright inaccessible by road. 60 years on the Trust are still enchanting and enthralling travellers by taking them across the sea to some of Europe's most breathtaking landscapes.
Every year the Trust's one-week Scottish cruise travels round Scotland's islands and always calls at dual UNESCO World Heritage Site, St Kilda, while the two-week trips have taken in Svalbard, Iceland, Lofoten, St Petersburg and the Gulf of Bothnia.
For more information and booking, visit www.culturalcruising.com.
The National Trust for Scotland is one of Scotland's leading conservation charities, which relies on the financial support of its members to fund its important work of caring for the natural and cultural heritage of Scotland for everyone to enjoy.
You can join the National Trust for Scotland for as little as £5.50 per month for a family. To become a member, visit http://www.nts.org.uk/Join/Benefits/.