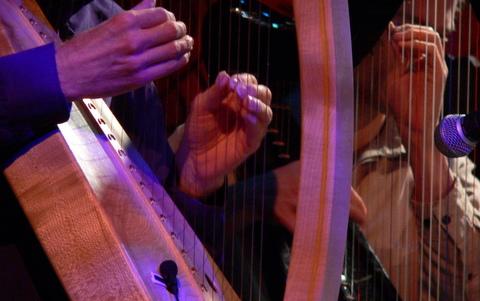 Late January in Scotland: the weather may be clear but cold, maybe sleet to high winds to snow, and all in the same day at times.
Scotland's music in January has as much variety, but music might be a bit easier to navigate, especially if you come to Glasgow.
torchlit procession courtesy of Celtic Connections
Celtic Connections, which has become one of Europe's premiere winter festivals, starts off things this season on 17 January with a concert at Glasgow Royal Concert Hall celebrating the festival's twentieh anniversary. The evening will bring back many artists who have played festival stages over that time. Highland fiddle player Duncan Chisholm, whose music helped open the first festival, will be there, as will singer Eddi Reader, whose take on the works of Robert Burns has caught the heart of her native land. Gaelic singer Julie Fowlis, who has grown up with the festival, will be there; this year up for an Oscar for her work on the film Brave. and master fiddler Alasdair Fraser, who has long been a part of the festival as a performer and as an instructor in its respected education program will be on hand. There will be many other festival favorite musicians taking part as well.
Over the eighteen days of its run, more than a thousand artists will share their music in venues across Glasgow from the intimate listening room to the large concert venue. Galician piper Carlos Núñez will bring the music of northern Spain, the Mavericks from the USA, whose work mixes rock, jazz, country, and Latin influences, will stage a reunion, and Altan will come from Donegal in Ireland's far northwest with their fiery brand of Celtic music.
Duncan Chisolm
John Doyle
Eamon Doorley
The connections aspect of the festival reaches out to southeastern Europe and west Africa, as Le Mystère des Voix Bulgares bring their harmonies and Salif Keita comes with his mix of traditional griot music and pop, jazz and Latin sounds. Old Crow Medicine Show, from the United States, adds high energy bluegrass, while Roddy Hart brings in a stand of indie style to the fest. Kate Rusby will come from Yorkshire to celebrate her own twenty years on the folk scene, bringing her insightful songs and dry wit along with musical guests to her party. Blazin' Fiddles will show just how powerful Scotland's fiddle traditions can be, while fiddler Wendy MacIsaac will join with other artists from Cape Breton to share how Scotland's traditions cross to Atlantic Canada.
That's just a hint of all the concerts on offer. There will also be workshops, ranging from come and try sessions for those who have never touched a fiddle, say, or a bodhran, to master classes on fiddle and cello from Alasdair Fraser and Natalie Haas to sessions on harmony singing which always turn out to be a lot of fun, as well as instructive.
The music doesn't end when each night's concerts conclude, either: there are late night sessions,  an after hours festival club, and the House of Song,  each offering a range of things to do into the small hours. Passing visitors and  headline acts are both to be found at all of these, and both warmly welcomed.
In the closing days of the festival, things will wind down with the Transatlantic Sessions, a well loved and lively connection of artists from across traditions joining in for concerts that seem, by the time they are done, not so much like stage shows as like friends sharing songs.
If you'd like to join in online, the BBC offers broadcast coverage of many events on both radio and television (television mainly available only in the UK), as do RTE and TG4, Ireland's English and Irish language broadcasters. Celtic Radio from the University of Strathclyde in Glasgow often offers live broadcasts of concerts and interviews with festival artists.
Celtic Connections Festival web site for tickets, schedules, and other information:
http://www.celticconnections.com
 
All photos courtesy and copyright Kerry Dexter, made with permission of the artists and the festival, except the torchlit procession one, which is courtesy of Celtic Connections
Feature photo: harps at The Oak & the Ivy concert