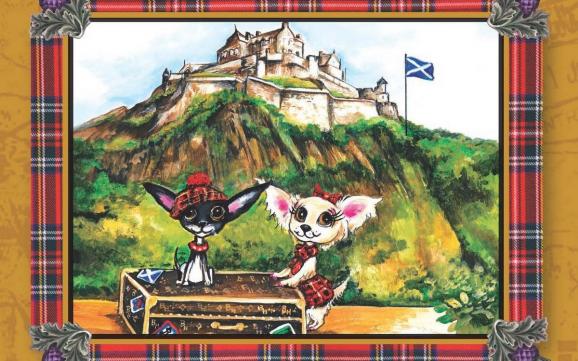 Recently, we received a review copy of The Adventures of Bella & Harry: Let's Visit Edinburgh. You might remember our review of the Let's Visit Paris book at Wandering Educators. Both books are written by Lisa Manzione and illustrated by Kristine Lucco. This book is good for younger kids to learn about travel – and Scotland!
Bella and Harry are two traveling Chihuahuas. They are Chihuahuas that know a lot about Scotland, and learn more as they travel the land. Readers can learn about the Scottish flag (colors: blue and white), geography, a Military Tattoo, Edinburgh Castle, the oldest building in Edinburgh, tartans,  falconry (watch out, Chihuahuas!), Nessie (we just happened to see her, when we were in Scotland), the ruins of Urquhart Castle, and even Dundee cakes.
This picture book is a fun way to teach kids about Scotland – with whimsical dogs that seem to enjoy exploring!
For our recipe for Dundee cake - and a few ways to teach kids about Scotland, click here.