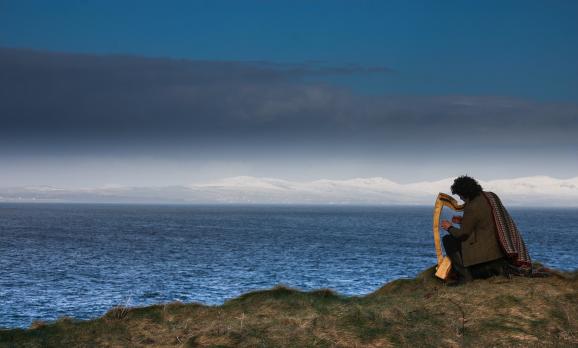 Ireland and Scotland -- there are just as many connections between the two countries as there are differences. One place those can be explored and enjoyed is through music, both from traditions of the past and work of present day singers, songwriters, and composers.
The folks at Putumayo World Music specialize in making albums which gather music from many artists. They seek out cultures and arrange the musical ideas around themes. The sorts of music you might hear of a relaxed evening in a pub or cafe is what label head Dan Storper and musicologist Jacob Edgar were after when they chose the tracks for the collection Celtic Cafe. There's lively upbeat music that'll have you tapping your feet (or maybe up dancing) as well as quiet songs for sitting back and listening -- perhaps with a cup of Irish coffee made to the recipe offered in the liner notes. One such song for listening is The Parting Glass, sung by Cara Dillon from Northern Ireland. Michael McGoldrick, who comes from the Irish community of Manchester in England and often plays with the Scottish band Capercaille, joins up with Americana artist Dirk Powell for another song that'll make you think, Waterbound. The Baileys pick up the pace with the Irish classic Star of the County Down, and Capercaille ups the level, too, with their offering in Scottish Gaelic, Him Bò. There's plenty more of music both lively and quiet to enjoy on the twelve tracks of Celtic Cafe.
Love is the central idea explored on the songs of A Stor Mo Chroi, which makes good sense when you realize that one of the meanings of the Irish words of the title is treasure of my heart. There are classics from the past such as Irish poet Patrick Kavanagh's Raglan Road, sung by Luke Kelly. There are classics of a different sort, as Irish group Lumiere chimes in with Fair and Tender ladies, a song well known in Ireland, Scotland, and across the water in North America. Top Scottish singer Eddi Reader offers the graceful contemporary song I Hung My Harp upon the Willow. John Spillane, from Cork in Ireland, gives his signature gritty style to a song of regret, When You and I Were True. T with the Maggies, from Donegal, on the other hand, offer a lively song of joy with Wedding Dress. There are further songs and tunes on love's varied aspects to explore.
Julie Fowlis grew up in the Western Isles of Scotland, where Gaelic is heard as often as English in daily speech. Muireann Nic Amhaloaibh comes from the far west of County Kerry, in Ireland, where that is true of Irish.  As the two musicians became friends, they began to discover connections in the songs they knew in Gaelic and in Irish. For reasons of geography and politics, the two languages diverged about four hundred years ago. There are, indeed,  similarities and differences, which the two decided to explore on their album Dual. That title is a word which in the Gaelic languages can mean both braided and heritage. No worries if you do not understand either Scottish Gaelic or Irish, the emotions and stories will come clear in the music. Fowlis and Nic Amhlaoibh explain things in English in the liner notes, too. Listen out especially for the Tha 'm Buntata Mor/An Bairille/Boc Liath Nan Gobhar set, An Eala Bhan, and Pe in Eirinn I.
Robyn Stapleton comes from the southwestern part of Scotland, a place with many ties to Ireland. That connection comes clear in the song The Irish Boy. You can find Stapleton singing other songs of her Scottish and Irish heritage on her album Fickle Fortune.
Kerry Dexter is one of the founders at Journey to Scotland. You may find more of Kerry's work in National Geographic Traveler, Strings, Perceptive Travel, Wandering Educators, Irish Fireside, and other places, as well as at her own site, Music Road.