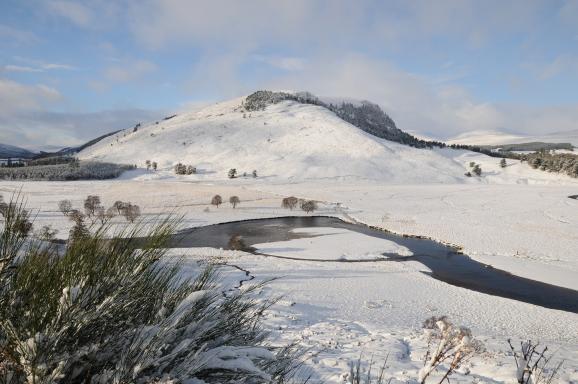 At the winter holiday season in Scotland, you will hear many carols and songs and hymns that are familiar across the English speaking world, along with some you might recognize from France, Ireland, the Appalachian region of the United States, and other places, as well. If you would like to hear that sort of music on record or perhaps give it as a gift to a Scotland-loving friend, here are ideas about that:
Alyth McCormack, Mary MacMaster, and Corrina Hewat each have quite a number of musical projects on their schedules, from composing to touring to teaching, which is why it's been some time since they got together as the trio Shine. This time out they decided to do a winter themed EP, Fire & Frost, in which they combine two harps and three voices on five well known seasonal songs. They give them each a memorable interpretation. Listen to the Christ Child Lullabye with words in Scots and Gaelic...
Bonnie Rideout is based in the Washington DC area in the US, and from there, most years, she sets out across the the United States with a tour of Scottish themed holiday music. Rideout is a fiddle player and she brings along musical friends Al Petteway on guitar and Maggie Sansone on dulcimer to add to the energy and joy of things; they do so on the recording A Scottish Christmas
as well. Music includes Hark the Bonnie Church Bells, an interesting pairing of O Come O Come Emmanuel with God Rest Ye Merry, Gentlemen, and Yeoman's Carol paired with Sound of Sleat. Rideout, Petteway, and Sansone are all top class players and know their Scotland music well, offering a range of lively and quieter tunes of the season.
Gaelic singer and educator Fiona J. Mackenzie shares a generous helping of music on her two disc set Duan Nollaig: A Gaelic Christmas
. There are seasonal songs from Scottish tradition, carols and songs from other traditions put over into Scottish Gaelic, and several contemporary songs too --Nollaig Chridell (We Wish You a Merry Christmas) anyone? There a lovely take on Fad cian an staball/Away in a Manger along with songs that may be unfamiliar mixed in with the ones whose melodies you'll know. There's Seall thall tiginn bion Ear/ Look coming from the East/The Dark island, for example, and Reul Thorach an Aige/ Bountiful star of joy. You can also hear Silent Night, Christ Child's Lullabye, and The Twelve Days of Christmas all sung in Scottish Gaelic. 
It's natural to think about Highland bagpipes when Scotland comes to mind. If you'd like to hear familiar carols and songs done with some flair on the Highland pipes, then Duan Nollaig: A Gaelic Christmas
is a good choice. From Good King Wenceslaus to Highland Laddie to What Child Is This, the musicians show how the pipes may take on the moods of the season, from gentle to lively.
When she comes off the road from touring with her music, Emily Smith often does Christmas concerts in her home region of Dumfries and Galloway in southwestern Scotland. This year, she has gathered many of the songs she's written and collected for these shows into the album Songs for Christmas. There's Christ Has My Hairt, Ay, sung in Scots, Silent Night and other traditional carols, songs of hope and faith from writers both Scottish and North American, and music of Smith's own writing including her quiet meditation on the changes of the season, Winter Song. Smith has a lovely voice and a graceful way with interpreting song, in which she is well supported by frequent musical collaborators Jaime McClennan, Matheu Watson, and Ross Hamilton.
Phil Cunningham's Christmas Songbook grew out of a seasonal concert, too -- at first a one off holiday show that Cunningham was asked to organize in Edinburgh, and now some ten years on it has become a seasonal series of five concerts in places across Scotland. The friends Cunningham asks along on these gigs every year include Eddi Reader, Karen Matheson, Kris Drever, John McCusker, Ian Carr, and Kevin McGuire -- a top class gathering of Scotland's musicians if ever there was one. They all join on the recording, too, which includes carols and holiday songs of all sorts, from Away in a Manger to The Holly and the Ivy to In the Bleak Midwinter to Santa Will Find You.
...and if you might be looking for music of Scotland that's not so seasonal to fill out your gift list or for your own listening, take a listen to the recordings mentioned in this story at Wandering Educators: Scotland's Music: A Saint Andrew's Day Tapestry. 
Kerry Dexter is one of the editors at Journey to Scotland. You may also find her work, mainly about music, the arts, history, and travel, in National Geographic Traveler, Wandering Educators, Perceptive Travel, and other places online and in print, as well as at her own site, Music Road