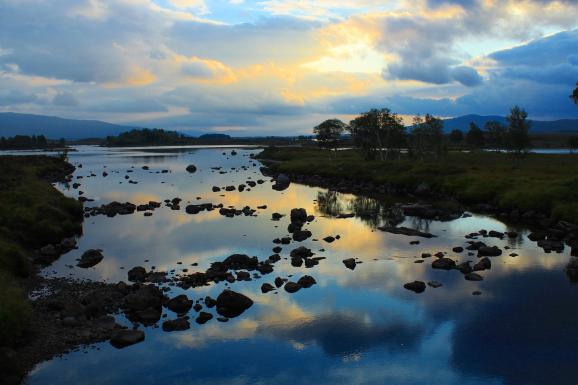 Capercaillie: back in high school, accordion and keyboard player Donald Shaw and singer Karen Matheson decided to start a band, which they named after the western grouse native to their part of Scotland. As the band biography says, it's a long way from Oban High School to the Hanging Gardens of Babylon -- and that's just one of the far-flung places Shaw, Matheson, and the talented players who've joined them on percussion, fiddle, flute, guitar, pipes, and bouzouki have made across the years. 
At the heart of Capercaillie -- in addition to top class musical talent -- is deep knowledge of and respect for their Gaelic heritage. They've shown this respect in their treatment of songs drawn deep from the tradition, in creating fresh arrangements for traditional music, in writing new tunes and new songs in both Gaelic and English, and in thoughtfully selected covers of contemporary music. Their shared musical intelligence and creativity allow individual talents to shine while maintaining a distinctive band sound. When you see Capercaillie in concert, one of the things you will notice straight away is that they really enjoy making music together. 
At this writing, Capercaillie's most recent recording is At the Heart of It All. The title song, an original written by Donald Shaw and sung by Karen Matheson, is grounded in the landscape and history of Scotland yet reaches to common human concerns. There's a full helping of songs in Gaelic and tunes both lively and reflective on the album, as well.
Donald Shaw (above) and Karen Matheson (below)
Capercaillie has sold more than a million albums across the world, achieved gold and silver album sales in the UK, and had the first top 40 song in the UK in the Gaelic language. The band's music has been in film and television programs, including Rob Roy, Glenfinnan, and Hebrides: Islands on the Edge. They have toured around the world, from those Hanging Gardens of Babylon to closer to home at Celtic Connections in Glasgow, as well as across Europe, Asia, Africa, and North America.
At the Heart of It All is a fine place to begin to learn about the music of Capercallie. You'll not go wrong with any of their albums, really. Some are more focused on music of Scotland's tradition, while on others they create music blending Gaelic tradition with other world musics. Roses and Tears and The Blood is Strong are two of my favorites; Sidewaulk is also a classic, and Grace and Pride is a retrospective of their recording history from 1984 to 2004.
Band members at present are Donald Shaw, Karen Matheson, Michael McGoldrick, Charlie McKerron, Manus Lunny, David Robertson, Che Beresford, and Ewan Vernal. When not touring with Capercaillie, each of them often works on other projects, as well. You may want to keep an eye out for Karen Matheson's album Urram, for example, and flute player and piper Michael McGoldrick's recording Aurora. 
Learn more: http://www.capercaillie.co.uk/
Pin for later:
Kerry Dexter is one of the founders of Journey to Scotland. You may find more of Kerry's work in National Geographic Traveler, Strings, Perceptive Travel, Wandering Educators, Irish Fireside, and other places, as well as at her own site, Music Road. 
Band photos, taken at Celtic Connections, courtesy and copyright Kerry Dexter