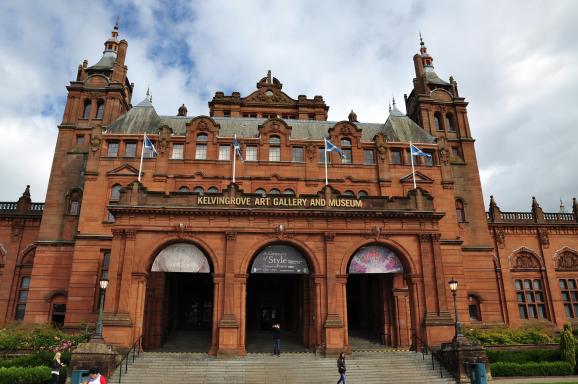 Charles Rennie Mackintosh: Is his name is familiar? 
Mackintosh, who lived in the late nineteenth through to early twentieth century, was an architect, artist, and designer. During his life, his work went in and out of favor. Nearly a century after his death, though, he is recognized as a Scot of international influence. His art helped shape the look of Glasgow, and had influence across Europe and lasting influence across generations.
In many ways, the Glasgow-born artist was a man ahead of his time. 
Think for a moment of what a Victorian era room looked like. Cluttered, overstuffed, dark, clashing patterns were the norm in interior decor for decades.  Charles Rennie Mackintosh went in another direction.
Several other directions, really: he looked to the history of Scotland, its baronial and Gothic architecture, for design ideas. He looked to the natural world of Scotland for design motifs, as well. These he melded with what he learned from travels outside Scotland, the emerging Art Nouveau movement, and the handmade look of the Arts and Crafts style.
Bothered by poor health as child, Mackintosh was encouraged to spend time in nature, where he learned to enjoy the shapes of trees and plants, something he'd carry into is work as an architect. He began taking classes at the Glasgow School of Art at fifteen, and continued to study there as he was apprenticed to the architectural firm of John Hutchison and after he completed his training, joined the firm of Honeyman and Keppie. 
He'd make his life, and his most lasting impression, as an architect -- as it turned out, an architect who believed in designing not only the exterior and interior spaces of a building, but designing decorative details, furniture, lamps, and other elements, as well. He believed all these elements needed to be harmonious. Contrary to the cluttered look of Victorian interiors, Mackintosh chose clean, often flowing lines, clear colors, and use of light, color, and line to define space.
While taking classes at the Glasgow School of Art, Mackintosh and his friend and fellow apprentice architect Herbert McNair met sisters Margaret and Frances Macdonald. The sisters were talented artists. Mackintosh would marry Margaret and Frances would marry McNair. They'd become known as The Four, creating art works focusing on natural elements, flowing lines, and especially in the case of the women, drawing on stories from fairy tales and mythology. Through his life, Mackintosh and his wife often collaborated on decoration projects and he credited her with being an inspiration lifelong.
When you visit Glasgow, there are places to experience varied aspects of Charles Rennie Mackintosh's art. 
At Kelvingrove Art Gallery, you will see chairs, tables, and table settings designed by Mackintosh, gesso panels by Margaret, and an exhibit on the work of The Four.
Mackintosh designed the building near the city center known as The Lighthouse as offices for the Glasgow Herald newspaper. Today it is the home of Scotland's Centre for Design and Architecture, which among other things is a showcase and seedbed for a range of innovative architecture projects in Glasgow and beyond. Mackintosh's work is illustrated through an interpretation center area with photographs, historical objects, and timelines. The most direct illustration, though, is the building's tower with the clean lines of its spiral staircase. The Lighthouse is also home to a bookshop, a cafe, and an ongoing program of exhibits and events.
On the University of Glasgow campus at the Hunterian Art Gallery, you will find another way to experience Mackintosh's work: the Mackintosh House. The rooms that Charles and Margaret lived in and designed, including the furniture and fixtures, have been reassembled from their former home on Southpark Avenue. Walking through these rooms really does allow you to see how the Mackintoshes used light to shape and enliven spaces, and to consider what it might have been like to live and work in such a space. One question that comes up on seeing the bright clean lines and extensive use of white is did the Mackintoshes have children? They would have loved to, but could not.
You have to think they would both have enjoyed creating environments for children, though, Margaret with her love of drawing fairies and fantasy, and Charles with his use of light and space. A hint of this comes in the Scotland Street School, a commission Charles had later in his career. Today the building, to which large windows, use of light, and clean line are integral, is a museum on the history of education in Scotland.
The Hunterian Art Gallery is also the place to find more than 300 pages of Charles Rennie Mackintosh's sketchbooks. Drawing was a lifelong activity for him, something he did for professional reasons and beyond that just because it was a way he enjoyed seeing and thinking about the world. As a student, he had won the Alexander 'Greek' Thompson prize -- an architectural drawing prize which is still awarded -- a traveling scholarship which allowed him to visit to Italy and other places, and make drawings along the way. The drawings offer another window into the way this artist thought and how he expressed his creativity when he was, in essence, making notes to himself. Most of the Hunterian sketchbooks are now available to see online, as well, which will help you plan for seeing them in person. The Hunterian is also home to work by Margaret and Frances Macdonald, and Herbert McNair.
The masterpiece of Charles Rennie Mackintosh's work as an architect is the Glasgow School of Art building. The varied needs of students and administrators of a working art school had to be incorporated on a steeply sloping site, and as it turned out, built across two phases from 1897 to 1909. As was his choice, Mackintosh designed everything from the iron roses on the exterior metal work to the address number plaque, to the light filled library, to the furniture in it. At this writing, you will see a rather different view of the GSA than the working art school it has been for more than a hundred years: in the spring of 2014, a swiftly moving fire spiraled though the building, destroying students' art and Mackintosh's, too. The building -- after some controversy about how to do it -- is under restoration. Across the street, in the modern day Reid Building, you can see the fine exhibit Window on Mackintosh, and perhaps sign up for a student-led walking tour of the area.
Want to learn more about Charles Rennie Mackintosh? In addition to offering further insight into his work just by the nature of the building (look out for floral motifs and unusual window designs), the Mackintosh Church at Queen's Cross serves as headquarters of the Charles Rennie Macintosh Society. In person and online, they can point you to further places to experience his work and other resources about him. Also, every October, the CRM Society, the GSA, the National Trust, Glasgow Life, and other organizations collaborate on the Mackintosh Festival, a month-long area wide celebration which includes walks, talks, workshops, exhibits, and other events.
Kerry Dexter is one of the founders of Journey to Scotland. You may find more of Kerry's work in National Geographic Traveler, Strings, Perceptive Travel, Wandering Educators, Irish Fireside, and other places, as well as at her own site, Music Road. 
All photos courtesy and copyright Kerry Dexter, except:
Scotland Street School Photo © Thomas Nugent (cc-by-sa/2.0)
Spiral Staircase Photo © Patrick Mackie (cc-by-sa/2.0)
Glasgow School of Art & Kelvingrove Photos pixabay