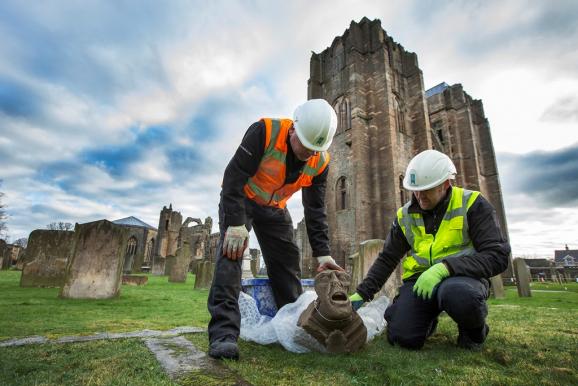 Work has begun to return 126 medieval carved stones home to Elgin Cathedral. Carved faces, plants and animals are being hoisted up into the cathedral towers to form part of an exciting exhibition due to open on Easter weekend.
 
The Elgin stones spent much of 2015 at Historic Environment Scotland's conservation centre in Edinburgh, being cleaned by expert conservators and studied by researchers. Now an immersive exhibition has been developed, telling the story of the cathedral and the people who built and used it.
 
Elgin Cathedral has a dramatic history, surviving both devastating fire in 1270 and attacks by the Earl of Buchan in 1390 and Alexander, Lord of the Isles in 1402. After the Reformation this beautiful cathedral, sometimes known as 'The Lantern of the North,' lost its roof and fell into disrepair. 
 
Fiona Fleming, Interpretation Manager at Historic Environment Scotland, explained, "For many years, the carved stones lay buried amidst the ruins, until the 1800s, when Elgin shoemaker John Shanks became the first keeper and watchman of the cathedral. He began to clear away some of the rubble  uncovering wonderful, crisp carvings that had been buried for centuries.
 
"By studying the stones we have been able to understand more about the cathedral's construction and development, its builders and benefactors, and what it might have meant to those who walked through its doors."
 
For the first time in 20 years, visitors will be able to get up close to these remarkable stones, including Bishops' memorials and fragments of a 13th century rose window discovered during repair works in 1936.* The displays will also explore the  messages contained in the many carvings that embellished the medieval cathedral, from flora, fauna and funny faces to mystical beasts and heraldic motifs.

 
Lorna Ewan, Head of Visitor Experience, Content and Learning at Historic Environment Scotland, said, "This is shaping up to be a fascinating exhibition, one which will bring the story of Elgin Cathedral to life for visitors. We've worked with academic experts to decode the messages within the carvings, and in partnership with Napier University on a wonderful lighting display to create a truly innovative exhibition for Scotland's year of Innovation, Architecture and Design. If you're planning your family outings for 2016, I'd highly recommend that a visit to Elgin Cathedral goes on the list."
 
The exhibition will open on Easter weekend.
Photos: Historic Environment Scotland stonemasons Scott Stewart and Graeme Horne and apprentice Jonathan Moir have begun the process of hoisting carved faces, plants and animals into the towers at Elgin Cathedral for a new exhibition opening on Easter weekend.Photos ©Historic Environment Scotland
As of the 1st October 2015, Historic Scotland and RCAHMS came together to form a new lead public body charged with caring for, protecting and promoting the historic environment. The new body Historic Environment Scotland (HES) will lead on delivering Scotland's first strategy for the historic environment, Our Place in Time. Historic Environment Scotland is a registered Scottish Charit/y
All information contained herein provide by Historic Environment Scotland
Learn more: http://www.historic-scotland.gov.uk/historicenvironmentscotland