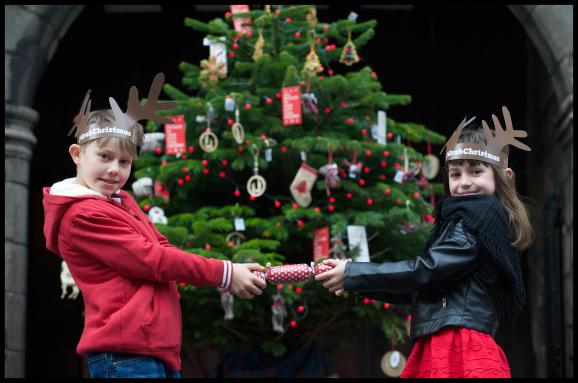 Edinburgh children Chloe Brown, Hannah Law, Euan and Luke Stevenson, Poppy and Lilly Duffy, and Rory Willis grabbed Christmas by the antlers today as they launched the National Trust for Scotland's festive programme at Gladstone's Land on the Royal Mile, Edinburgh.
 
The young visitors were unveiling the Trust's #GrabChristmas antlers which add extra fun to the charity's festive events this year. Visitors can upload selfies with the hashtag to social media and then be in with the chance of winning a special prize.
 
And, the charity was also unveiling a sparkling programme of festive events which are taking place at its stunning places all over the country, throughout December.
 
Marketing Manager Carly Lamberty said: "We have dozens of fun family events all over Scotland this December, so why not grab Christmas by antlers and start your festive season with the National Trust for Scotland."
 
At Gladstone's Land (pictured), the historic Old Town tenement is hosting one of the Trust's most magical Christmas events this year. On weekends throughout December, young visitors can fly an owl, just like in Harry Potter! With craft activities, storytelling and lots of festive treats, this is a Christmas event with extra sparkle. The event runs on selected dates throughout December and tickets cost £18.50.

 
In Glasgow, Mrs. Claus makes her annual visit to Pollok House where she keeps Christmas with all the trimmings. She'll be on hand to take Christmas wishes back to the North Pole and perhaps to hand out a few early gifts too. Surrounded by Christmas sparkle, this very popular event is one that families return to, year after year. Mrs Claus is visiting Pollok House from 28 November until 24 December. Tickets cost £6 per child.
 
Santa, meanwhile, will be making a visit to Threave Garden in Dumfries and Galloway on 5 and 6 December. The beautiful baronial Threave House will be decked with holly, from the glorious garden outside and ready to welcome visitors of all ages. There will be Christmas crafts, music and mulled wine. Tickets cost £5.
 
In Ayrshire, the enchanting Culzean Castle will be brought to life with characters from some best-loved fairytales and pantomimes for its Mission Snow event. Visitors will be asked to help collect snowflakes on their special seasonal tour round the stunning 18th century castle and help make sure Culzean's Christmas is white. The Magical Castle: Mission Snow runs on Sunday 6 and 13 December. Tickets cost £10 for adults, £7 for children, £30 for a family.
 
Castle Fraser in Aberdeenshire, another stunning castle, is hosting a Candy Cane Christmas party on 12 and 13 December. With party games, Christmas crafts and a visit from Santa, this will be a fun-filled start to the festive season. Tickets cost £10 for adults and £12.50 for children.
 
Booking is essential for most events – please visit www.nts.org.uk for the full festive programme, prices and booking information.
 
A full range of Christmas gifts, including gift membership is also available online at www.nts.org.uk.
 
The National Trust for Scotland is one of Scotland's leading conservation charities, which relies on the financial support of its members and donors to fund its important work of caring for the natural and cultural heritage of Scotland for everyone to enjoy.
 
You can join the National Trust for Scotland for as little as £6 per month for a family. To become a member, visit http://www.nts.org.uk/Join/Benefits/.
 
You can make a difference and help protect everything in our care. Donate online at https://www.nts.org.uk/Donations/
Photos by by Rob McDougall:
 
1: Front – Chloe Brown (5), 2nd row, L – R – Hannah Law (6), Rory Wills (6) and Luke Stevenson (5), 3rd row, L – R – Euan Stevenson (8) and Poppy Duffy (8), Rear – Lilly Duffy (10), all from Edinburgh, model NTS's #GrabChristmas antlers that will be available at the charity's Christmas events across Scotland.
 
2: L – R - Euan Stevenson (8) and Poppy Duffy (8), pull a cracker, a tradition dating from the Victorian era.
 
 
All information contained herein provide by the National Trust for Scotland