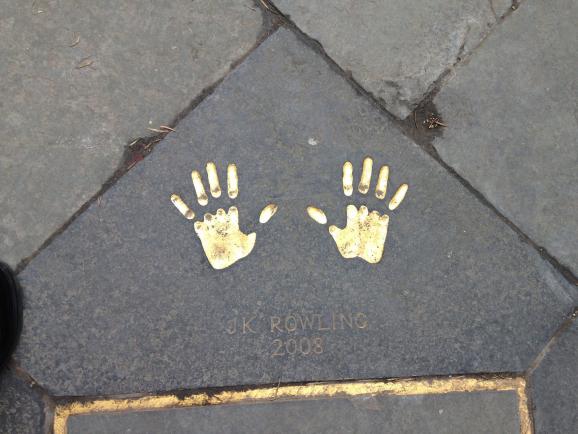 Story Highlights:
A new tour of Edinburgh's literary introduces poets and novelists to children and their families.
 
Edinburgh,  May 19  2016 – Context Travel, organizer of critically acclaimed walking tours, unveils its new Quills and Magic Wands: Literary Edinburgh for Families tour in time for its 2016 spring/summer season.
The child-oriented introduction to the literary heritage of the city is led by historian and literary historians specially-trained in working with children. Following a thematic and chronological trail through the city, participants go through a journey that goes from Walter Scott to J.K. Rowling, using age-appropriate, interactive activities to encourage deep engagement with the literary works. Children on the walk are encouraged to read and compose literary works, explore language and delve into carefully selected poems and other texts.
"We are very excited to add this experience to our Edinburgh program," says Petulia Melideo, Context's UK and Ireland Program Manager. "Edinburgh is the first UNESCO city of Literature and a great city to visit with children. Our hope is that our young writers will come away with a new love for literature and poetry after having engaged with our experts and having had a go at writing in such an inspiring context."
The Quills and Magic Wands: Literary Edinburgh for Families tour lasts two hours and is available Mondays through Saturdays. Private tours cost GBP 300 per party. Groups are limited to (6) six participants and are led by a credentialed expert.
Learn more: https://www.contexttravel.com/city/edinburgh/walking-tour-details/quills-and-magic-wands-literary-edinburgh-for-families
Founded by National Geographic writer Paul Bennett and designer Lani Bevacqua, Context Travel is a network of English-speaking scholars and professionals, including art historians, writers, architects and gastronomes, who organize and lead walking seminars in  thirty-seven (37) world cities, including: Florence, Rome, Venice, Naples, Milan, Paris, London, Dublin, Edinburgh, Madrid, Barcelona, Berlin, New York, Philadelphia, Boston, Washington, D.C., Buenos Aires, Rio de Janeiro, Cartagena, Istanbul, Athens, Beijing, Shanghai, Vienna, Prague, Budapest, Amsterdam, Milan, Dublin, Tokyo, Kyoto, Hong Kong, Vancouver, Montreal, Melbourne, and Sydney. A certified B Corporation, Context Travel was named one of the fastest-growing American companies in 2011 by Inc Magazine. Travel + Leisure has called Context one of the top European tour companies for its innovative approach to travel and the depth of its programs. To learn more about Context, visit the website at: www.contexttravel.com