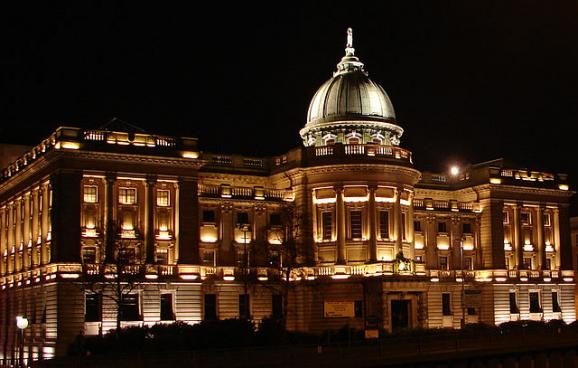 If you enjoy reading books, learning about ones new to you, hearing authors discuss their creative processes, getting tips for your own writing -- just about anything book related -- then Glasgow is your place to be in March.
That's when the AyeWrite! Festival takes place.
The main festival runs from 12 to 29 March, with events taking palce at The Mitchell Library, the Glasgow Royal Concert Hall, and the Memorial Chapel at the Univeristy of Glasgow.
Before those events kick off, though, there's a day especially for Children: Wee Write.
This happens of 7 March at The Mitchell. Children 8 and above may attend events on their own, while younger children must bring a parent along.
Events for children include storytelling and readings from children's authors and other top storytellers, crafts, games, and other kid friendly things. Many are free, and when there is a charge it is usually around 3 pounds. There's also a cafe where parents of older children may wait while their kids take part in events.
Beginning on 12 March, the main part of the festival comprises more than 200 talks, interviews, discussion, roundtables, and other ways to talk about books. Most cost about 10 pounds each to attend.
You can hear acclaimed essayist Kathleen Jamie, statesman John Bercow, Cheff Tom Kerridge, and other high profile folk. You will also have the chance to hear Maggie O'Fareel talk about the story behind Shakespeare's most famous play, Chris Smith discuss his book on an enigmatic 20th century spy, a panel of writers discussing their ideas on the future of Scotland, and writer David Weinczok talk of his book which traces the real history of the Game of Thrones through Scotland's landscape and history.
There are dozens more events, including a strand of creative writing sessions taught by well experienced writers and academics. These each last about 2 hours and cost 18 pounds each. Topics include Good Beginnings: How to grab the reader's attention from the first line; Writing for Children and Young Adults; Research for Writers; What You Need to Art.
Thanks to donations from past festival attendees, AyeWrite! has offered a Community Ticketing initiative through which tickets are given to folk who've never attended a book festival, and school children are hosted to festival events, as well.
There's a strand of events which are free to anyone to attend, also. These include community-based sharing of writing, and talks by authors, including Jemma Neville and Tessa Hadley.
For schedules, information, and to book tickets in advance, visit the AyeWrite website.
Even if you'll not make to Glasgow to attend AyeWrite!, looking through the website will likley suggest books and authors about which you will want to know more.
Kerry Dexter is Co-founder and chief editor of Journey to Scotland.
You may find more of Kerry's work in National Geographic Traveler, Strings, Perceptive Travel, Irish Fireside, Wandering Educators, and other places, as well as at her own site, Music Road.
Photo Wikimedia Commons; author not readable, assumed JuliaC2006. commons.wikimedia.org/wiki/File:Mitchell_library.jpg