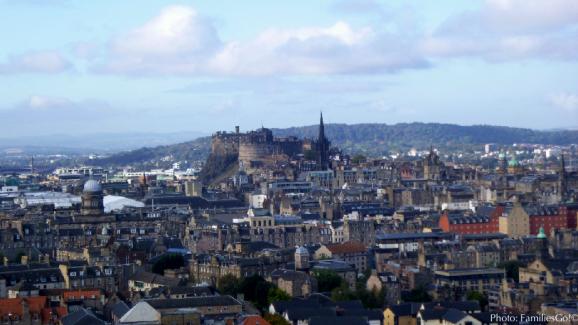 Edinburgh is a small city with a lot of museums, including several large, well-known ones, like its National Portrait Gallery, and many small ones that are easy to see in an hour or two, like the Museum on the Mound (where you can see a one-million-pound note).
Here are four museums, a combination of big and small, that we think are likely to be a hit with families. They are kid-friendly, but will have something for the adults in your group, too. 
The National Museum of Scotland
If you have time to see only one museum while you're in Edinburgh, this is the one. It's Scotland's version of the Smithsonian condensed into one building. It has wings for science, natural history, and Scottish History, and a fourth, quite eclectic, wing for all the things that don't fit the other three categories.
The museum was built during the Victorian Era as a place for work-a-day citizens to come learn about science and technology. The airy main floor atrium very much evokes the high aspirations of that era. 
We took a one-hour tour that was worth doing, because we learned about the building itself and got an overview of the collections, which can help you to plan the rest of your time there. The guide also showed us things I most certainly would have overlooked, like a plain ceramic canteen that was essential to figuring out how to produce penicillin on a large scale.
The most challenging thing about this museum is that our family had a hard time agreeing which galleries to visit in the limited time we had. My 4th grader made a beeline for the very attractive, hands-on science wing. I wanted to explore Scottish history and an exhibit on fashion through the ages. After spending some time in the science rooms, my daughter found a kids' activity room in the history wing. She was quite happy to try on medieval dresses and put together puzzles of Celtic ruins while we looked at the real thing in nearby galleries. 
The Camera Obscura Museum
This is the museum we expected to spend 20 minutes in and wound up staying for nearly two hours. Located on a roof near the top of the sloping Royal Mile, the camera itself is a sort of periscope that zooms in on various parts of the city and projects them onto a large white concave screen. On a rare sunny day, the images are full color and quite clear. On the bright but cloudy day we visited, shapes were distinct and some color came though, but people were mostly gray shadows.
The rest of the museum deals with the science of illusion. Our family formed a human circuit and gave each other tiny shocks in the electricity room. We played with telescopes, a shadow camera, and shadow puppets. We swayed back and forth in front of holograms and other optical illusions. And my daughter could not get enough of "the vortex," a tunnelwith rotating lights that gives you the distinct feeling the bridge you're walking on is about to spin sideways and dump you out. They stamp your hand so that you can come and go during the day. The promise of returning again in the afternoon was the only thing that got our child moving on to other sites. 
The Palace of Holyroodhouse 
Edinburgh Castle is perched high above the city and so visible from everywhere that a visit is inevitable. But don't skip Holyrood Palace at the other end of the Royal Mile.You can see Mary Queen of Scots' private chambers, the throne room, and the dining room where the Queen still holds formal dinners. 
On a nice day, you can walk around the gardens where the Queen holds a large tea party for Edinburgh's elite ever year. If you do make it outside, be sure to notice the "ha ha" wall, called this because you can clearly see a high stone wall from the outside of the palace, but inside, it disappears behind a lawn that slopes to the top. 
This was the one stop that we feared would bore the heck out of our child, who's still a few years away from learning European history. But an audio tour comes with your ticket and they have an audio just for kids. I don't know what was on it because she wouldn't let me borrow it. But it definitely had her engaged; she often lingered in rooms longer than we did to hear everything.
Dynamic Earth
This is the museum we wanted to get to and didn't (we'd had our share of science already, so detoured to the palace instead). But on a return visit, we would make it a priority. Housed in a tented dome on the site of a former Brewery, the museum offers unique opportunities to explore the physical history of our planet. Take a time-machine ride back to the big bang, and experience in unique hands-on ways our many environments, from oceans and volcanoes to the rain forest and frozen tundra. 

Wikimedia Commons: Richard Dear
Which museum would you most like to visit?
Eileen Gunn is the founder and editor of FamiliesGo!. Click to read more about Edinburgh, or follow her on Pinterest, Facebook, Twitter, or Instagram.